MIGHTY MINDS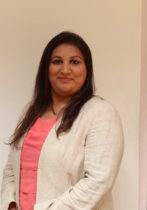 Greshma Momaya believes that,"For any child, life remains a sea full of rich experiences just waiting to be explored." As an educator, she would like to become that sea for them. She feels that if a child can't learn the way we teach, maybe we should teach the way they learn.
Her education and career have been dedicated to developing young minds. A Bachelor Degree in Human Development followed by a post graduate Diploma in School Counselling from the University of Mumbai, and a Certification in Early Year Foundation Stage from UK empower her to create an eclectic curriculum for nurturing young minds. She has recently certified from Harvard University in School leadership.
She started her career as a Kindergarten teacher and taught at the primary level for 7 years, then, as Preschool Coordinator & Operations Head, and now as Head of Tots. She has been involved in designing of learning environments, scripting curriculum and training teachers in preschool. From 2007, she is set on a journey for creating stimulating Early Learning Environments.
She enjoys creating vibrant learning environments that are happy and warm. In her words, "I strive to ensure that the curriculum is both enriching and stimulating for young children. I believe a preschool should be a wonderful safe heaven for children – a home away from home where learning is effortless and organic"
Looking at challenges children face in schools she realized the importance of guiding parents hence she set on a mission of happy child, happy teaching & happy parenting. To take her mission forward, she conducts various workshops for educators & parents. She conducts facebook live sessions on various issues & concerns pertaining to children.
Constant learning, networking, meeting new people has helped her to set base in educational field in India. She wanted everyone to think education field as first choice of career and not the forceful choice of career. She wants to prove that teaching career also has growth if you are ready to learn.
Her message to all the women out there is to keep learning and networking!
Her achievements –
India Star Icon Awardee
Global Goodwill Ambassador of India
Educational Ambassador at hundred.org from Finland & U.K
Represented India at Global Educational Supplies & Solutions, Dubai in 2017
Ambassador of India for Child Abuse Prevention Program
Educational Advisor at Alokbortika, Bangladesh
Nominated for Me Paridhar Awards initiated by Shri Sarang Shriniwas Patil, Secreatry of Maharashtra, NCP
Honourable Advisor at Sports Association of India
Parenting & Education Expert at Firstcry.com, Zedua & The K Junction
Invited to speak at various Educational Conferences in India and abroad.
Successfully completed leadership course from Harvard University.
You can view her profile and work by clicking on the following links:
Disclaimer: The views and opinions expressed in this article are those of the author and do not necessarily reflect the views of The Wonder Women World. If you wish to write /contribute you can reach us at thewonderwomenworld@gmail.com or here-> CONTACT US