AT NINE SHE SHINES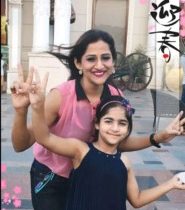 My name is Rubina Bakshi, I am the mother of a nine year old, talented and creative daughter who happens to be a You Tuber. Her name is Ambreen Bakshi.
We are from the beautiful city, Chandigarh, which is a modern small city. Where the grass is always green, but the opportunities are limited as compared to the other metros. I want to share with you all, a challenging journey of my daughter's You-tubing career. Interestingly, my daughter was just 5-years old when I created her YouTube channel with a casual approach of uploading her childhood videos.
During one summer vacation, my daughter was playing in the park and chasing the butterflies. One of them sat on her shoulder and my daughter perceived butterflies to be friendly creatures. She came back and scribbled a few lines on the Butterfly adding a rhyme to it. I posted this on Word Press. This is how she began to write short poems and short stories but it did not go on regularly until much later. In the next couple of months, I tried putting her into various other activities to see where her interest lies, such as skating, dancing etc. and in the same year, she participated in the solo singing competition in the Rose Festival, which is a big event of the Chandigarh City in February. She sang the song "Let It Go" from the movie "Frozen". I was amazed to see her confidence on stage and without any stage fear, she gave an awesome performance and bagged a consolation prize. She began to enjoy the limelight connecting with the audience and being the centre of attraction.
Besides that, she had an innate inclination toward unboxing of the games/ toys which we use to get for her. She was often fascinated by unboxing them in a cinematic way. I quickly identified that her strength lies in being on the front foot rather than being a backstage person. Since she always wanted to connect with the audience to gather accolades and adulation, so I experimented by making a couple of unboxing videos of her and started uploading them on her YouTube channel under the name "Ambreen Bakshi".
At first, the channel didn't pick up very well as it was a slow beginning due to less exposure but we did not give up and we persevered, as my daughter had a keen interest in shooting for the YouTube videos and posing for the camera each time we made a video. I consistently kept on posting one video each week and shared it across all the social media platforms including my contact list. Still, we didn't make a major breakthrough, and in between my daughter's expectation from the channel progress was shattered but each time someone appreciated her for her videos in the circle, I use to show it to her to boost up her confidence. As a team, we really worked hard and pursued YouTubing without giving up. We kept on making and sharing her videos with everyone including the local market, her school friends, teachers etc. I promised her that we will make it to the top gradually. I invested my money to buy games for her to unbox, so we could videotape it for her channel as I believed that my daughter had that spark in her and each time when I gave her a choice between blogging and YouTubing, she always chose YouTube as her first choice.
Miraculously for us, after so many efforts we had put in, they were paid off in March 2019, when one of her review videos on Dairy Milk Silk chocolate trended on YouTube and topped up the trending charts and our channel soared up to 18 Million views and 72000 subscribers within a span of 5 to 6 months and suddenly, my daughter became a YouTube sensation in our circle i.e., neighbourhood, school, local markets and the city. And that ignited a fresh new positivity in her as she became a well-recognized face everywhere she visited. This twist changed her perception and it became a turning point for her that gave her a strong push to work harder for the channel.
We have got a lot of support from her school-St. Joseph's Sr. Sec. School, Sec 44, Chandigarh. Now, we collaboratively brainstorm new ideas to create her YouTube videos on product reviews, unboxing, DIY, hauls, lifestyle, travel, crafts etc. Her channel is managed and marketed by me in the entirety wherein I videotape, edit, compile and share her videos on the right platforms to get the viewership.
Her short term aim is to achieve a Silver award from YouTube by hitting 1 million subscribers soon. Further, she aims for a YouTube Gold and Platinum award.
Here are some of her trending videos:
Message to all the kids: I feel every child has an imagination, an innate -ability to learn some unique skills-set, so as parents we must identify and encourage our kids to follow their passions. And let them stay focused to develop those skills. I would sum it up with 3 P's: Patience, Persistence and Perseverance are the keys.
YouTube | Facebook | Instagram | WordPress |Twitter
Disclaimer: The views and opinions expressed in this article are those of the author and do not necessarily reflect the views of The Wonder Women World. If you wish to write /contribute you can reach us at thewonderwomenworld@gmail.com or here-> CONTACT US