ON FRIENDSHIPS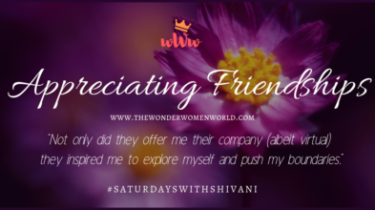 The first Saturday of August and there's only one thing I can talk about today- Friendship. For me, friends are the family that I chose. I love to be surrounded by people who I know and who know me well. Even as I would walk the road that leads towards home, right from the bhaaji wala (Vegetable vendor) to the fruit wala (fruit vendor) to the grocery store owner; unless they would wave and exchange pleasantries with me, my walk would be incomplete.
For someone like me, to be cooped up in a high rise with hardly a soul in sight and to hear a language that I didn't understand, was quite a challenge. For the uninitiated, we moved outside India exactly a year ago and six months ago when I started writing Saturdays With Shivani, my first write up was about my loneliness and how I dealt with it.
This was also the time I discovered something that hitherto was an alien concept for me and that is online friendships. I remember the first time when I gingerly pressed on the 'send friend request' tab to a stranger. I don't recall who the honour went to but it was definitely a blogger. I admit that all those crime patrol serials about online friendships gone wrong, flashed before my eyes. But send I did and it was accepted almost instantaneously. Emboldened I clicked another one and then another… after that there was no looking back.
Ever so often I look back at that moment and silently pat my back. These online friends became my lifeline as I tried to find my way through loneliness. This time I surprised myself and everyone around me when I flew down to Hyderabad to meet some of these virtual friends. Some must have thought that I have lost it but I can never explain what these friendships mean to me.
These are the people who thrust out a friendly hand that I could hold and come out of the abyss of loneliness that I was in… an abyss that was threatening to turn into a black hole and suck me inside it.
They could actually make out my mood with my WhatsApp messages. These are the people who when they asked how I was, actually waited to hear the answer howsoever unpleasant it was.
The best part is that not only did they offer me their company (albeit virtual) they inspired me to explore myself and push my boundaries. As my first book is waiting in the wings to make an appearance, I remember the time when I was at my lowest. These friends were the ones who made time to talk to me and cheer me up, give me confidence and restore my faith in myself. A huge chunk of credit goes to this gang of my online friends that my book will see the light of day.
These are the friends that walked in my life and have left footprints in my heart. Here's wishing all my friends, online and otherwise, a very happy friendship day. May everyone be blessed with sincere friends to walk the road with them.
Disclaimer: The views and opinions expressed in this article are those of the author and do not necessarily reflect the views of The Wonder Women World. If you wish to write /contribute you can reach us at thewonderwomenworld@gmail.com or here-> CONTACT US