SURBHI BHATIA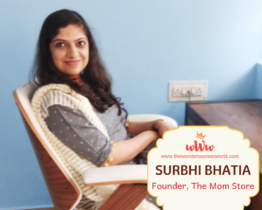 "My vision is to build an all-encompassing Indian mother and baby brand at par with international standards that provides everything that a mother needs for herself and her baby to have a delightful and memorable motherhood journey." That ambitious and passionate vision statement belongs to 31-year-old Surbhi Bhatia, Founder of The Mom Store.
Around two years ago, Surbhi started two wonderful journeys – as a mother and an entrepreneur. With an aim to help mothers celebrate the journey from pregnancy to early motherhood, The Mom Store provides products ranging from maternity wear, diaper bags, nursing pillows, baby apparel and baby accessories. It also provides a platform to young mothers to share their experience through blogs.
She says, "The Mom Store is driven from my personal motherhood journey, from my search for products that were missing or not easily available in the Indian market. I also felt a change in how women today approach the idea of motherhood. Our generation of women have been brought up with great sense of independence and equality."
Based in Bengaluru, Surbhi started her the journey in world of business in 2018 and is very encouraged by the overwhelming response. She proudly shares, "In a span of one year, we have serviced more than 6,000 orders across every state of India to mommies living in more than 500 cities. Our reach covers 99.9% of all pin codes of India."
She approaches her success with modesty and said, "Despite initial success, I feel we have not even begun to scratch the surface." In fact, she focuses on the lessons learned in year one and recalls how as a newbie to the start-up world, she faced challenges from setting up supply chain, to logistics, to technology and customer service but is aware that it is part of the process and looks forward to steadily take her brand beyond the Indian market someday.
Her message to women wanting to take up entrepreneurship would be To Plan. Then do a pilot, and get feedback so that you can mitigate your chances of failure. "Get your hands dirty," she says and "don't doubt your capabilities"
She hopes the women reading this who are looking to dive in entrepreneurship feel a surge in confidence and ends on an encouraging note, "Don't be scared to fail because failure teaches you more than what success ever will. Keep working on your dreams and aspirations, you will achieve them. If nothing else, your trials and tribulations will veer you towards another path that you may not have envisioned and you would be so much happier pursuing that too!"
Disclaimer: The views and opinions expressed in this article are those of the author and do not necessarily reflect the views of The Wonder Women World. If you wish to write /contribute you can reach us at thewonderwomenworld@gmail.com or here-> CONTACT US