DR. DEBMITA DUTTA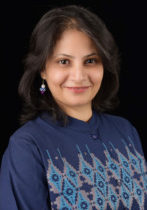 "Parenting which is meant to add love and happiness to our lives – has off late become a source of fear and guilt. All parenting problems are due to an expectation mismatch between what the child can do and what the parent expects." Meet Dr. Debmita Dutta, the wonder woman who has aptly described current-day parenting and has made it her life's purpose to, "make parenting a joyful stress-free experience again".
A practising doctor for close to 20 years, Dr. Debmita, is also the founder of What Parents Ask, a website that provides parenting information from experts. Established in 2017 after years of conducting workshops and playing the role of a parenting consultant because she realized parents and participants were always looking for a resource to refer to post the workshops.
Talking about her background, Dr. Debmita says, "I was born into a family of doctors and I got married into a family of doctors. I am also proud to say that I am a "fauji" wife – my husband is an Air Force Officer and so was his father." Currently based in Bengaluru, she has lived in many cities across the country and where ever her husband's postings took them (he is a Cancer Surgeon) and especially recalls 3 years living in an air base near the China border.
What Parents Ask was set up by Dr. Debmita after a year of preparation, reading and research. Positioned to be a one stop destination for all their parenting questions, the website gives you access to views from expert gynaecologists, paediatricians, paediatric ophthalmologists, dentists and NLP experts who share their views in a simple and easy to apply manner. Apart from this, she also runs an emergency paediatrics clinic every morning. She also conducts parenting workshops at schools and corporate organisations
"I am passionate about the work I do", Dr. Debmita says, "because I believe that parenting is very easy if you can understand your child. And it is not difficult to understand children. Every child is just a growing brain and a growing body – both of which have several limitations" And she tirelessly aims to educate parents about their growing children so that they can parent with empathy and compassion instead of disappointment and frustration.
Her father is her inspiration, her mother is her role model who have always taught her, "give your best and don't worry about results, fame or money. Work because you are capable of doing something worthwhile and don't waste the talent God has given your but rather to use it to help others."
With that principle forming the strong foundation of everything she does Dr. Debmita continues to reach and touch the lives of several parents and children she says, "We are fortunate to live in this wonderful time when we can reach out and support each other through social media – no matter where we are. Make sure you are actively looking for your tribe and supporting other women who are trying to do something worthwhile. Be empathetic. Be kind. Never be afraid to chase your dreams and follow your heart."
Disclaimer: The views and opinions expressed in this article are those of the author and do not necessarily reflect the views of The Wonder Women World. If you wish to write /contribute you can reach us at thewonderwomenworld@gmail.com or here-> CONTACT US