MEERA SANKAR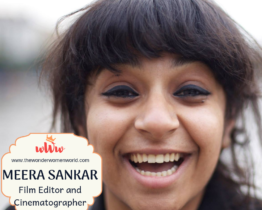 My name is Meera Sankar and I'm 28 years old. Currently based in Prague, I work as a Post Production Manager and have been working as an editor and cinematographer in the field of films and advertising for the last 8 years.
I started as a freelancer in Bangalore and in 2013, I went to Prague Film School to graduate with an Honours in Post Production and Cinematography. Before going to film school, there were a lot of parallel things happening so that I could prove to my family that film-making was my future. I was a freelance editor, worked as a content associate and was the producer of my own radio show on Radio Indigo in Bangalore with RJ Vasanthi Hariprakash.
Shortly after this, I was offered the Government of Ireland Scholarship to do a Masters in Film Studies. I was one of the two Indians chosen for this scholarship. After a year in Ireland, I managed to get my shot film screen at the Fastnet Short Film Festival. It was the most exhilarating experience to see people from another country watch my movie. At the end of my Masters, I got offered a job to work as the on ground editor and cinematographer and be one of two girls on the film crew of Solar Impulse!
Solar Impulse was the first solar-powered airplane to fly around the globe. Not only was I the only other girl on the film crew but I was also the only Indian on the team and the second non-European team member on the crew.
This took the next year of my life. Moving from country to country, getting the opportunity to meet people like Ban Ki Moon (the then UN Secretary General), filming the sunrise over the Pyramids of Giza, Standing in the middle of a tarmac watching and filming airplanes take off and land, flying in a two-seater plane over the deserts of Arizona and getting to swim with the Prince of Monaco in the Monaco Watch Club (this is a long story).
After this, I went with my friend Pooja Sampath to film three amazing 70 year old women, relive their life as mountaineers when they were 20, and spent 15 days at the foothills of the Himalayas filming their journey. 
After this I came to Prague to continue my work in Post Production and recently got the opportunity to edit my first feature film which has been the most exciting thing for the year of 2019 so far.
Work aside, I adopted the cutest blind cat called Miss Sissi Elliott who has a story you would not believe and a rescue mouse Monty who is Sissi's best friend!
My message to all of you reading this today is, "No matter how amazing or wonderful a story sounds, nothing in that story would've come together easily. The ease in telling it comes through going through all those experiences, facing the difficulties and still pushing through. I mean if my blind cat can figure out where the sofa is within a few minutes of me moving it to a new position, life isn't as hard. "
Disclaimer: The views and opinions expressed in this article are those of the author and do not necessarily reflect the views of The Wonder Women World. If you wish to write /contribute you can reach us at thewonderwomenworld@gmail.com or here-> CONTACT US