WOMEN VOYAGERS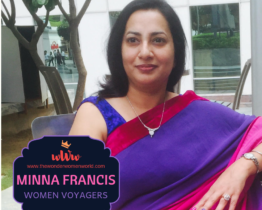 Every woman, including me always dreamed of going to faraway places, but it wasn't always possible due to the enormous responsibilities that we as women must undertake for our family. There's also the fear of the unknown! Vacation for a woman in any household means, going to the place where either your partner, husband, family wants to go or where kids' can enjoy.
But what about you? What about your dreams to explore places of scenic beauty or thrilling adventure? You have your own desires; your aspirations and you also need you 'me time'.
Having worked for more than 20 years and having primarily planned and managed travels and vacations for my bosses, colleagues and friends. I have always been acknowledged and appreciated for my immaculate planning and execution capabilities. So, I decided to take this passion of mine to the next level and start something especially for women! Thus, Women Voyagers was born with the objective of helping women fulfill their travel dreams as aspirations.
I wanted to share my (short) story on The Wonder Women World for two reasons – one to inspire those who are hesitating to get started on their entrepreneurial journeys and two to introduce my venture and ask you to give Women Voyagers a chance to plan your trips, fill your life with adventure and turn your travel diary into a memorable story rather than just an unfulfilled dream!
Our Mantra: "The World is a book and those who DO NOT travel read only the Front Page"
MINNA FRANCIS
Owner and Founder, Women Voyagers
Disclaimer: The views and opinions expressed in this article are those of the author and do not necessarily reflect the views of The Wonder Women World. If you wish to write /contribute you can reach us at thewonderwomenworld@gmail.com or here-> CONTACT US