I'll KNOW WHEN IT'S TIME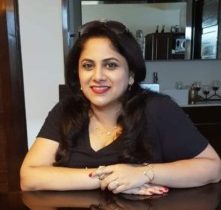 I am a mother of two lovely little girls (7.5 and 2.5 years old) and until recently I thought I have years before I have to talk to them about periods and all the changes that take place before and during the onset of this biological milestone. But at some point, I realized that, it is very naive of me and I must not assume it can be a "just in time" talk. Why? I'll tell you why.
The advertisements: Whether it is cable TV or YouTube, you cannot miss the creative ads. And my older girl's curiosity was piqued when she saw a blue liquid from a beaker being poured onto what she called, "a diaper". She innocently asked me, "Mama, that's too small to fit Z (her younger sister) no?" I nodded like it was a fair point and then she got distracted. But I knew, a few more times we watch this advertisement and the questions won't stop at just one.
The dreaded stain: We were strolling down the aisles of a super market when my girl frantically tugged my shirt to show me something, she kept pointing to a woman and said, "Mama, blood! Auntie's got blood on her bummie!" I thanked her and said, "Let me quickly ask her if she's OK" I went on to tap the lady on her shoulder and broke the dreaded news. She was grateful and turned to peek at the damage as she rushed off to find the nearest rest room. But my daughter will soon wonder about the placement of that red stain!
The time of month: Every month, I find excuses to get me some time off and some pampering from the girls. Tummy ache, head ache, back ache – day 1 is hard! My elder girl gets all maternal around me and has started to worry that I fall ill way too often. She's clever and will soon demand to know what's really wrong!
The girl talk: "I've got my chums", "I'm on my period" , "I'm on day one" – some statements my daughter has overheard my girls friends and I say to one another. She's asked me once, "What's chums?" to which I said "A grown up girl matter" and dismissed the matter. But soon she'll want to know more.
The older friends: The wonderful thing about our neighbourhood is the kids who play together are of different ages. Boys, girls, tweens, toddlers have a fabulous time playing out practically the entire day (now that the summer vacations are on!). So when my daughter's friend who is 5 years older popped over with sweets announcing, "Auntie, I matured!" I did not know whether to be mortified – at the phrase the innocent thing used to break the news or at the fact that she was going around sharing it with neighbours or that my girl demanded to know why she hasn't "matured yet!" I quickly recovered and told her, "All in good time" and put a laddu in her mouth.
So you see, I was mistaken to believe that just because my girl has time – it can wait. Kids these days are sharp, observant, vocal and mature. (Thank God they are! They need to be in this fast-paced world.) And I know my girls will ask questions, which I will openly answer. But I'll decide when the time is right.
I have no qualms as a woman to talk about the topic freely, but I will follow my intuition as a mother to decide when my girls are ready. I am sure I'll do just fine and so you will! 🙂
Charmaine Timothy
Founder, The Wonder Women World
This article was written as part of the series around The World Menstruation Hygiene Day for Gynoveda
Disclaimer: The views and opinions expressed in this article are those of the author and do not necessarily reflect the views of The Wonder Women World. If you wish to write /contribute you can reach us at thewonderwomenworld@gmail.com or here-> CONTACT US