ACKNOWLEDGE!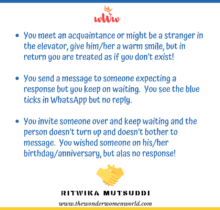 You meet an acquaintance or might be a stranger in the elevator, give him/her a warm smile, but in return you are treated as if you don't exist! You send a message to someone expecting a revert, but you keep on waiting. You see the blue ticks in WhatsApp but no reply. You invite someone over and keep waiting and the person doesn't turn up and doesn't bother to message. You wished someone on his/her birthday/anniversary, but alas no response!
Even when our children/spouse/parents/friends do something good, often we fail to acknowledge it.
I am sure we all have had such experiences in our life. Why is it so difficult to acknowledge? A small thank you, a warm smile in return, a single line of revert, three lines in a mail..is it so difficult to do that? Your acknowledgement might help someone in taking a decision, might make someone's day, might make someone feel better, feel special. Few words of appreciation, a hug, a small token can work wonders.
I believe this is a very basic etiquette that people need to follow. You might not be in a mood of acknowledgement or revert but what you need to think from the other person's perspective too. It hardly takes 10 minutes out of your 24 hours. It speaks a lot about you.
As I read somewhere, "Acknowledgement is the only way to keep love alive." So, let's acknowledge more and keep the love alive in this world!
Disclaimer: The views and opinions expressed in this article are those of the author and do not necessarily reflect the views of The Wonder Women World. If you wish to write /contribute you can reach us at thewonderwomenworld@gmail.com or here-> CONTACT US