GYNOVEDA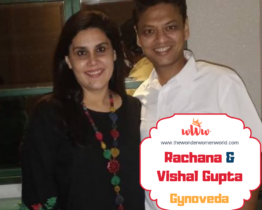 The Founders
Meet the husband wife duo and the Founders of Gynoveda – Rachana and Vishal Gupta. Rachana, is a Health & Happiness coach and also the published author of the book, Happiness ki Khoj. She is passionate about women's health and committed towards enabling women to take charge of their period health and enjoy a life filled with abundance and happiness. Vishal, is the man behind the women at Gynoveda! He is instrumental in building the first Period Test that enables women to self-diagnose the health of their period. With his keen eye towards solving problems, he was able to understand the gap that exists in the space of women and menstrual health. He works extensively with the core women team at Gynoveda to understand the nuances of what women want is responsible for building systems and tools to grow & scale Gynoveda globally. They are parents to a freshly minted teen boy, Soham who is the harshest critic and also the most ardent cheerleader of their enterprise.
What is Gynoveda?
Gynoveda brings Technology and Ayurveda to solve Period problems. together founders learnt that 70% of women dread visiting a gynecologist for 4 reasons –
Physical examination
Awkward questions
Fear of being judged
Time to find right doctor & visit the clinic
They went deeper and found that women's understanding of healthy menstruation is dismally low. As a result, 1 in 5 women globally suffer from period abnormalities as there is no easy way to test & treat it
Gynoveda is born out of the founder's personal belief to empower women to take charge of their health in 3 simple steps:
Technology – Gynoveda team created Period Bot, a revolutionary gynecology robot with artificial intelligence to self-diagnose period disorders. A woman responds to 20 questions and Period bot intelligently computes and shows her result on her mobile. All of it in just 3 minutes.
Gynecology – But like its said, no robot can replace human intelligence and so there's MyGynie, a hotline with doctor gynecologists. Chat, call and consult on-the-phone to skip the long queue at doctor clinic.
Ayurveda – Treatment kits packed with power of Ayurveda, world's best medical science with ancient herbal formulations has proven to treat the root cause of any menstrual disorders.
As a first step towards taking charge of your Period: Begin with the Period Test.
Simply answer 18 questions and see your result instantly. Created using perfect blend of ancient Ayurvedic wisdom and modern science. Test now. It just takes 3 minutes.
Disclaimer: The views and opinions expressed in this article are those of the author and do not necessarily reflect the views of The Wonder Women World. If you wish to write /contribute you can reach us at thewonderwomenworld@gmail.com or here-> CONTACT US