ALIVE AND KICKING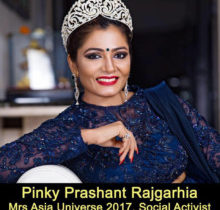 John Green, famously said, "What is the point of being alive if you're not doing anything remarkable?" This quote is my motto, I don't want to just be alive…I want to do something remarkable. I want to alive and kicking!
It took a "one step at a time" approach to reach where I am today. I hail from a small beautiful village in Nepal, Dharan. It is said that your brothers are like your father; My eldest brother was playing the role of my father. My parents parted ways when I was just 6 months old. I completed my education from Symbiosis college, Pune. While I was doing my graduation, I worked in IITC Pune, as a receptionist. I got engaged at the age of 19 to a guy I had never met or seen before. I was married in a very traditional joint family.
I feel that everyone is aware of the Saas-Bahu drama television serial. Where the bahu is draped in a saree, loaded in jewellery, and carries a smile always; that is what my life had become. I had my first miscarriage and to conceive a baby, I had to take steroids. On my daughter's first birthday, I weighed 92 kilograms. I was losing self-confidence, I was not comfortable in my own skin, I used to hide from social events, I was the target of nasty comments, and I was taunted by my own people that, "If I keep gaining weight, my husband might lose interest in me." We don't realize how powerful words are. Words can break you, or they can make you. Choose them wisely.
I was clinically diagnosed as 'depressed.' My mom came to visit me. She hugged me and cried, "What have you done to yourself, you deserve to be happy, fit and healthy."- Her words triggered something in me – and made me want to live a better life. I started eating healthy, and joined a health centre immediately. Within a span of 8 months, I dropped to 58 kilograms. I started gaining self-confidence and joined a school as a teacher, and later as a child psychologist.
Finally, my life was on the right direction. I conceived a second child. Whenever I asked to be blessed by the elders, they always told me that, "I'll have a baby boy this time." My surrounding was so obsessed with a boy. It was revealed to me that, I was carrying a baby girl. I feared, "What if I was asked to abort my child." I kept it a secret, and gave birth to my second daughter. I was welcomed by the disappointed faces of people.
Fast forward many years, I was faced with another huge next milestone of my life, was when I received a notification on Facebook by Mrs India; tagging me as a finalist. While I stared blankly at my mobile phone, my daughter Priya, had a huge smile on her face. She had secretly filled up the form of Mrs India. My phone rang continuously, & instead of congratulating me, people questioned me as to what example am I setting for my girls. However, my mother and my daughters, supported me all through and I am so grateful that they stood up for me when I needed them the most.
Crowns are not made of rhinestones; they are made of hard work, determination and a hard-to-find alloy called courage. I was declared as the winner of Eastern Mrs India 2016, Mrs India Fitness 2016 and Mrs Asia 2017. I represented the whole of Asia in Mrs Universe and won the most prestigious title, 'Mrs Universe Business Lady 2017.' 

On my return, I realised how people who once made fun of me; now wanted to be seen with me, wanted to talk to me and were happy to be related to me.
After winning the pageant, I was offered modelling assignments, roles in TV serials, etc. But, something just did not feel right. I wanted to do something concrete, something worthwhile. I was offered to be the brand ambassador of VDIS special school who works for the differently abled. I was fortunate enough to be approached by Sahas Foundation, who work for Acid Attack Victims. The term acid attack victims sounded inappropriate after meeting them. Let me change the term to acid attack survivors, for they're not victims but true survivors. I have also tied hands with Srujna NGO, we work for the holistic development of underprivileged women.

I did a lot of introspection, planning and executing when finally, I gave birth to my third baby, Chingari Shakti Foundation. We would be teaching self-defense to all BMC schools to ensure that every girl in our country feels safe always, and is able to achieve all her goals. I personally believe that each woman is already empowered, strong and capable of making her own decisions.
Oprah Winfrey has rightly said, "Where there is no struggle, there is no strength." Life is full of struggles, full of ups and downs. We too fall many times in life but come out victorious for we are not just alive but alive and kicking. We are blessed to have this life, so let us celebrate being ALIVE.
PINKY PRASHANT RAJGARHIA
Disclaimer: The views and opinions expressed in this article are those of the author and do not necessarily reflect the views of The Wonder Women World. If you wish to write /contribute you can reach us at thewonderwomenworld@gmail.com or here-> CONTACT US