TOP PICKS OF THE WEEK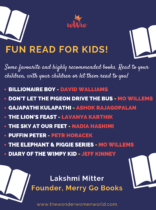 Lakshmi Mitter's Top 5 Favourite Books
Billionaire Boy by David Walliams
Don't Let The Pigeon Drive The Bus by Mo Willems.
Gajapathi Kulapathi by Ashok Rajagopalan
The Lion's Feast by Lavanya Karthik
The Sky At Our Feet by Nadia Hashimi
Best Books For Children to Start Enjoying Reading
Puffin Peter by Petr Horacek: An extremely sweet story with amazing illustrations, is a superb read for children of any age.
The Elephant & Piggie Series by Mo Willems: These books are incredibly cute and funny. They are simple enough for beginner readers and facilitate role play. That makes it even more enjoyable as the child is not the only one reading. It becomes more fun for the child if he or she is allowed to choose the roles, each one must play.
Diary of the Wimpy Kid by Jeff Kinney: These are funny and hence have the knack of catching the reader's attention and holding it. These books are fast read and hence give the reader a feeling of accomplishment. This is important to re enforce that reading is an enjoyable activity and not a daunting activity.
Books by David Walliams: For the 9+ age group, these books are a fantastic read. I strongly recommend his books for anyone in the 9+ category.
Disclaimer: The views and opinions expressed in this article are those of the author and do not necessarily reflect the views of The Wonder Women World. If you wish to write /contribute you can reach us at thewonderwomenworld@gmail.com or here-> CONTACT US