STOKE THE FIRE OF THEIR PASSION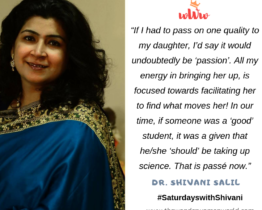 The advantage of living in a different country is, you can get away playing the tourist (read playing goofy) and go down the path less travelled. So here we were, on a Saturday afternoon with the daughter fulfilling her social commitments, leaving the two of us to explore the 'many wondered' city we've moved to.
We had zeroed in on a restaurant in a quaint street for lunch. Minus the daughter we could afford gastronomic adventures. With GPS holding our hand and leading the way, we crossed another restaurant with almost the same name but a magical word attached to it- 'Vegan'.
Now don't get me wrong. I'm no vegan but in this city this one word rids me of the stress of figuring out if my definition of vegetarian matches the restaurant's (and try that in sign language or in broken sentences). I hope you can feel my pain.
But today I am not talking about my food preferences but what awaited us behind that door as it beckoned us. Both of us exchanged the now-familiar-expression that means 'Why not? Let's do it.'
Quickly abandoning our plan for this impromptu culinary (mis?)adventure we walked into the small, crowded eatery where a sprightly woman with a funky haircut greeted us with warmth.
This lady, clearly the one running the show, had a magnetic charm around her. I couldn't take my eyes off as she attended every guest with a genuine smile. I could feel the vibes from every fibre of hers that was buzzing with an inexplicable energy, as we allowed her to dictate what to try. We spent a considerable time and money trying out her suggestions and let me tell you, we weren't disappointed.
This was a happy place and I didn't want to leave (that explains the bill) and the biggest reason was the lady. I spoke to her and shook hands on the promise of visiting het again but I couldn't get her out of my mind.
And then two days later I met another lady, someone who had dabbled briefly with acting and is now settled here making an indelible mark as a hairstylist. Shorn of any celeb airs, she's a breath of fresh air and both my daughter and I love seeing her.
Now why am I talking abut these two ladies, you wonder?
Because… what attracted me towards both of them was their passion towards their work. Their happy vibes, their energy or their zeal is not a matter of chance. They love what they do… with all their heart… and it reflects in every action of theirs, big or small.
If I had to pass on one quality to my daughter, I'd say it would undoubtedly be this 'passion'. All my energy in bringing her up, is focused towards facilitating her to find what moves her! In our time, if someone was a 'good' student, it was a given that he/she 'should' be taking up science. That is passé now.
My job profile as a parent is to allow her to explore till finds her niche. She needs to take pride in her work when she grows up. It pains me when I see people frustrated and dissatisfied with the best of education and jobs. Their half-baked, half-hearted attempts at work alarm me.
My post coincides with the declaration of results and I sincerely hope my thoughts find a resonance with you. Amongst all the congratulatory messages on Facebook, I was struck by one of my friend's status messages, that I quote- 'To all those students who managed to disappoint their parents, relatives, and teachers…congratulations. This is the beginning of becoming the person you really want to be.'
It has been niggling me ever since as I am reminded of all those 'non achievers' of my class, who went ahead and explored other options, found themselves and more often than not have ended up successful and more importantly happy!
Wishing all mothers, a very happy Mothers' Day. May we be able to raise kids to be happy, to be passionate and to be proud of what they do. Everything else, I firmly believe, will fall in place!
(PS: Before anyone jumps at any conclusion about yours truly, let me clear the air that I am one of the fortunate few who is getting to explore both the options that I was passionate about!!)
Disclaimer: The views and opinions expressed in this article are those of the author and do not necessarily reflect the views of The Wonder Women World. If you wish to write /contribute you can reach us at thewonderwomenworld@gmail.com or here-> CONTACT US