POONAM WADERA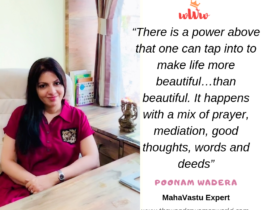 "There is a power above that one can tap into to make life more beautiful…than beautiful. It happens with a mix of prayer, mediation, good thoughts, words and deeds." Behind this meditative thought is Poonam Wadera, a certified MahaVastu expert and trained Astro-Numerologist.
For Poonam, it started as a personal interest in Vastu to enhance her life. But 2012, she was guided by her Guru to pursue it as a profession and to delve deeper into the ancient science behind Vastu. At that point in time, Poonam was managing a flourishing career as Vice President at a leading insurance broking company. The call to transition was strong and after much thought, Poonam quit her job in 2014 and made consulting in Vastu her life's mission.
Through her profession, Poonam has witnessed the power of this science and is grateful for having been an enabler. She says being in gratitude for all one has creates an immense amount of inner peace and is bound to help professionally as well as personally. Given that it is a less known topic and not as widely studied, there are difficult situations and non-believers but she treats each situation with composure and healthy dialogue and when faced with a tough call, she consults with her circle of colleagues to tide over the situation.
There are many who are keen to take the same path as Poonam. She suggests that, as a first step, you make sure the domain truly interests you. If yes, then along with studying the science, you learn from those established in the field and participate in their live consultations. Finally, Poonam adds, "It is very critical that one understands the very basics and has a strong foundation as the recommendations made have an impact on people's health, relationships as well as businesses."
As she looks forward to promoting her passion via various media, she hopes to trigger your curiosity in this lesser known topic. She will be more than happy to answer any queries you may have and for the time-being signs off with a very practical message "Try to be the best version of yourself each day. Start by taking care of yourself. The most important vehicle is your body in which your soul lives, remember that each day and continue to dazzle."
Disclaimer: The views and opinions expressed in this article are those of the author and do not necessarily reflect the views of The Wonder Women World. If you wish to write /contribute you can reach us at thewonderwomenworld@gmail.com or here-> CONTACT US