DR. BHAVI MODY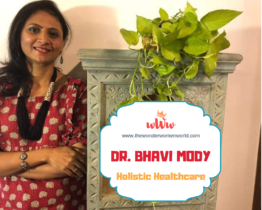 "I don't react to situations. I respond to them." With this approach in life, you are bound to be a wonder woman! Meet Dr. Bhavi Mody, Founder of Vrudhi Holistic Health Care Services.
An only child, Dr. Bhavi was raised by a perfect parent duo – a father, a strict disciplinarian and mother who always taught her to put others before self. She has twin girls who she says, "rule her world" and a very supportive husband.
Dr. Bhavi has made it her life's purpose to promote "A humane approach to holistic healing" and what sets her apart from the others is that she practices what she preaches! Through Vrudhi, Dr. Bhavi champions a three-pronged vision, "Create a healthy and happy society, promote health and wellness and make holistic healthcare services more accessible and available"
The virtual platform she has created and the offline network she has built is always buzzing with activity that are wellness focused and the response to her effort is fabulous – demonstrating her genuine attempt at making a positive difference in the lives of all those she touches!
Dr. Bhavi does not have regrets because she says, "I learn from my mistakes" but she does have a word of caution to those jumping into entrepreneurship across any industry – "Have a solid marketing plan and budget". She recalls the time she was building a new product – funds went dry and the team she was working with were keen to explore other options but Dr. Bhavi and her husband went back to the drawing board, brainstormed and came up with a strategy that convinced her team to stay on board for three months. During those three months she could turn things around and since then, there has been no looking back. She came out successful, but she adds, "To sail through rough waters and keep the ship afloat was challenging, but we're very proud that our team stood by us, believed in our vision. Ultimately, your team is your true net-worth"
Having been in this profession for 22 years now, Dr. Bhavi comes with immense amount of experience and says to all those making a foray into this very competitive field, "It takes time for people to trust you with their health. You grow by word of mouth and your patients will be your strongest supporters, care for them well."
Disclaimer: The views and opinions expressed in this article are those of the author and do not necessarily reflect the views of The Wonder Women World. If you wish to write /contribute you can reach us at thewonderwomenworld@gmail.com or here-> CONTACT US