NIDHI MAITRYA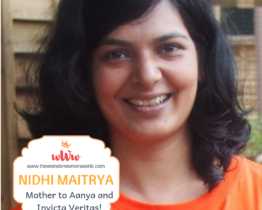 I am Nidhi, mother of two, Aanya and Invicta Veritas! While Aanya is 5, Invicta is completing 7 years this August.
As you can imagine, having two babies can at times make you feel like a referee, I am no different and find myself caught up keeping an eye both the kids. My idea of a rewarded life is to try balance my time between the two and make sure that neither feels left out.
While Invicta takes up the first half of my day, Aanya rules the second. As a mother, my effort remains to build the right foundation for them so as to equip them have their own identities in due course.
While Aanya is my biological baby, Invicta is my first start-up!
Invicta Veritas LLP is in the domain of insurance education and training. It operates two portals InsuranceGurukul.com and InsuranceScholars.com under its umbrella.
InsuranceGurukul.com was conceptualized in the dining hall of our home and has ever since grown to become what it is today. It wasn't by accident and from the very start I sought to build a sustainable home business which allows me to balance my profession and family, both of which are very crucial to who I am and my idea of leading a fulfilled life.
Being a woman founder, trying to build an enterprise out of her home, I had to crackdown and defy various societal biases. I struggled to give InsuranceGurukul.com the identity it deserved and to give the business the due credit of the hard work that was being put into it. This was primarily because it was a home business run by a woman.
In my case, the naysayers conveniently presumed that because "A woman was working from home" she must be doing something very trivial just to kill time which definitely did not have any value whatsoever and monetarily definitely would not be adding anything to the business or the household. "Chalo time pass to ho raha hai" was a common jibe.
I will be honest, those vibes got to me at some point and I felt like I cannot create a valuable business being at home as my priority was always to take care of both my kids. It took a while to come to terms with this unnerving phase but with the constant support of my husband and parents and a lot of reading; I reinforced my belief in myself.
One book that had a powerful impact on me was "The Power of Extraordinary Mind" by Vishen Lakhiani
This book taught me about Brules.
"A Brule is a bulls**t rule that we adopt to simplify our understanding of the world. Sometimes "Brules" that should have expired generations ago still infect our lives. Getting rid of our Brules is like shedding old dirty clothing and putting on something fresh. Extraordinary people tend to have allergy to Brules. "
We often have mental constructs that we ourselves choose to believe. I decided to let go of all naysayers and my own limiting beliefs and decided to give my 100% to the business I dreamed to build. I worked 20 hours shift each day to build my website. Coincidentally the birth of Insurancegurukul.com and Aanya were timed together and I was literally burning both ends of the candle to keep up the momentum and deliver my best. The shift in my thought process and my will to make the idea work kept me going. I can proudly say that this period was the hardest I've ever worked in my career, and when I look back to it now, I wonder how I managed to do it.
Today we are a 15000+ students company having our hold across 7 countries with 40+ modules on our website created with the help of content partners spread across the globe and we associate our brand proudly as an Education partner with Chartered Insurance Institute, UK – an internationally reputed brand in the Insurance domain, all of this achieved within the four walls of my home.
So here are my learnings from journey:
Lesson 1: You can create a "Sustainable Home Business"- It's not important to step out of home each day to create something that adds value, if you have the right skills and a strong will to make your mark, you can do it right there in that living room, on that sofa! I did just that!
Remember to remain true to yourself and your customers and ultimately you will find your own voice to rise above all preconceived notions.
Lesson 2: Hard work knocks talent when talent doesn't work hard. Having the talent for a skill is just 5% of the battle. The other 95% is the grind that you put into honing your talent that makes up the complete resume of your accomplishments.
We shouldn't get dejected when we seem to "fail" and consider ourselves to lack the talent to achieve a goal. We must try, and try again to build our 95%.
Lesson 3: Have the power to choose your own version of the world. I have always aspired to lead a fulfilled life. A life where I can strike an optimum balance between profession and family. So when it came to choices about my start-up which is doing seamlessly well, I did choose to decline many funding requests, deliberately did not hire a big team which would scale the portal to the next level and chose not be 'out there' each time to create the noise about my work .
So when I was not chasing the above to glitz my living, I found enough time to make a life!
Website: www.insurancegurukul.com
My background:
After completing my post-graduation in Finance and IT, I went through the rigorous All India selection process amongst 20.000+ students for the final 20 Management Trainee batch of 2008-2009 at Bajaj Allianz General Insurance Co. Ltd, where later I was chosen to serve as a Head-Office Property Underwriter and continued to do so for almost 4 years with direct reporting to the Vice President- Underwriting and the Head-Underwriting. My passion to learn diverse domains eventually landed me up at Tata- AIG General Insurance wherein I was chosen as a Profit- Centre Marine Underwriter. I served the organization for nearly 4 months and then branched into entrepreneurship.
Along with work, I completed Fellowship from Insurance Institute of India (III) by being an All India topper. I believe that these years as a professional underwriter, in some of the most prestigious companies in India and my education with III played a key role in what InsuranceGurukul.com has to offer today.
What motivated me to start my business?
The idea of InsuranceGurukul.com came when I was preparing myself for the Fellowship Exams conducted by the prestigious Insurance Institute of India. Being an All India Topper in the Associate Exams, I aspired to do really well in the Fellowship Exams too. However, the biggest challenge I was facing was how to manage reading in the little time left after office hours. It was not possible for me to go through all the books. I was looking for a learning aid to help me sail through. So, I went online and did some research hoping to find courses who can train me for these exams and help me get good marks. To my surprise, I found not even a single player who was providing organized and dedicated learning kits for these exams. The next morning, I resigned from work and started working on my own portal, InsuranceGurukul.com.
Disclaimer: The views and opinions expressed in this article are those of the author and do not necessarily reflect the views of The Wonder Women World. If you wish to write /contribute you can reach us at thewonderwomenworld@gmail.com or here-> CONTACT US