CERI NAZ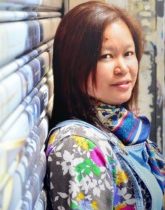 Caroline 'Ceri Naz' Nazareno-Gabis, World Poetry Canada International Director to Philippines, is a multi-awarded contemporary poet, editor, journalist, museumist, linguist, educator, peace and women's advocate.
Graduated cum laude with the degree of Bachelor of Elementary Education, specialized in General Science at Pangasinan State University. Ceri have been a voracious researcher in various arts, science and literature. She volunteered in Richmond Multicultural Concerns Society, TELUS World Science, Vancouver Art Gallery, and Vancouver Aquarium.
She currently experiments on deviantArt , mask and shell painting, and collecting artworks from the exquisite nature. Her photoart "koireography'"was exhibited in South Korea, with the theme ''VISIBLE POETRY CONNECTING THE WORLD". Her mentor in photography is her husband, Bryann, a freelance photographer and a professional teacher. As a science educator, she has found American Society for Rickettsiology- University of Montana, a research niche on biological safety.
Her prestigious poetic belts are Writers International Network-Canada ''Amazing Poet 2015'', The Frang Bardhi Literary Prize 2014 (Albania), the sair-gazeteci or Poet Journalist Award 2014 (Tuzla, Istanbul, Turkey) and World Poetry Empowered Poet 2013 (Vancouver, Canada), and World Poetry Canada Poet Piper 2012.
She also served as one of the juries of local and international writing competition like Commaful's Next Top Writer, Poets in Nigeria and more.
Ceri to her friends, is a Chief Advisor to the President of the World Nations Writers' Union in Kazakhstan on Contemporary World Literature, Honorary Member of World Higher Literary Academic Council of World Nations' Writers Union, featured member of Association of Women's Rights and Development (AWID), Member of the Advisory Board of ATUNIS Galaktika Poetike, Asia Pacific Writers and Translators (APWT ), Axlepino and Anacbanua.
Her creative writings have been published in different anthologies and magazines worldwide.
Links to her work:
http://panitikan.ph/2018/03/30/caroline-nazareno-gabis/
https://apwriters.org/author/ceri_naz/
https://cerinaz.deviantart.com/
Disclaimer: The views and opinions expressed in this article are those of the author and do not necessarily reflect the views of The Wonder Women World. If you wish to write /contribute you can reach us at thewonderwomenworld@gmail.com or here-> CONTACT US