SIBLING RIVALRY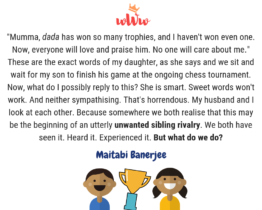 "Mumma, dada has won so many trophies, and I haven't won even one. Now, everyone will love and praise him. No one will care about me."
These are the exact words of my daughter, as she says and we sit and wait for my son to finish his game at the ongoing chess tournament.
Now, what do I possibly reply to this? She is smart. Sweet words won't work. And neither sympathising. That's horrendous. My husband and I look at each other. Because somewhere we both realise that this may be the beginning of an utterly unwanted sibling rivalry. We both have seen it. Heard it. Experienced it.

But what do we do ?

Faced with such situations, I feel it makes parenting a bit difficult. And as parents we cannot shy away from the fact that we need to address it asap and rather prudently. And so in a bid to salvage the situation, we pulled her towards us, made her sit on her dad's lap and said, "Would dada have won any if you have not supported unconditionally? Tell?"
She smiled. "Dada wins because he has a sister like you who supports… who else has tell me ?"

She smiles again. And nods shyly.
" Is dada's trophies not yours and ours. And isn't it that we all are a part of it?" She gives a confused look. Okay, I tell my husband…"Zyada ho gaya…"
We smirk.

"Yeah right Mumma, I should be proud of his achievements na… but how he always scolds me.."

"Oh and you don't do anything to him…. you too beat him up…Riu."

And we laugh.
I don't know, if this will work. But, it was a small effort in mending the mind of the person who was reeling under some kind of dissatisfaction. This shall and should continue on our parts and ensure that this beautiful relationship should never get marred by complexes and misunderstandings.
Bas ek koshish !
Disclaimer: The views and opinions expressed in this article are those of the author and do not necessarily reflect the views of The Wonder Women World. If you wish to write /contribute you can reach us at thewonderwomenworld@gmail.com or here-> CONTACT US