MY TEA SAGA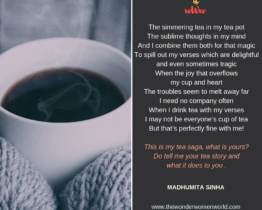 Let's say Cheers to life with a hot cup of Tea !
Drinking a hot cup of tea to start the day ,to end the day or to start a conversation or sometimes for no reason , is my mantra or way of life every single day and I am sure it's the same for many of you too .
Call me an addict (who has withdrawal symptoms if she doesn't get it at a specific time of the day)  or a connoisseur or lover of this enigmatic drink but surely I don't have any single logic to prove my addiction and extreme love for Tea.
I love be it masala chai, green tea , mint tea, chamomile tea and even iced tea practically all varieties and forms as I do get my zest and zing out of it for sure to keep going everyday .
My precious verses on TEA and POETRY
The simmering tea in my tea pot
The sublime thoughts in my mind
And I combine them both for that magic
To spill out my verses which are delightful and even sometimes tragic When the joy that overflows my cup and heart
The troubles seem to melt away far
I need no company often
When I drink tea with my verses
I may not be everyone's cup of tea
But that's perfectly fine with me

This is my tea saga, what is yours ?
So tell me your tea story and what it does to you.
Disclaimer: The views and opinions expressed in this article are those of the author and do not necessarily reflect the views of The Wonder Women World. If you wish to write /contribute you can reach us at thewonderwomenworld@gmail.com or here-> CONTACT US