SELF-BELIEF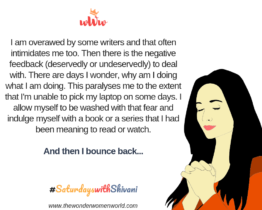 As a writer, who's just started exploring and as someone who never aimed to be one (albeit dreamt of one), I am riddled with self-doubt…quite often…more than I would like to.
I am overawed by some writers and that often intimidates me too. Then there is the negative feedback (deservedly or undeservedly) to deal with. There are days I wonder, why am I doing what I am doing. This paralyses me to the extent that I'm unable to pick my laptop on some days. I allow myself to be washed with that fear and indulge myself with a book or a series that I had been meaning to read or watch.
And then I bounce back…. why and how…let me share with you.
The why part is simple. I write because I HAVE to. It is a source of pleasure for me and also keeps me sane. They are reasons enough for me to go back to it. Coming to 'how' I do it, I think we need a certain level of confidence to survive in this world. People and circumstances jab at us relentlessly and its only self-belief that will see us through testing times. To quote R.W. Emerson– 'If I have lost confidence in myself, I have the whole world against me'. I have to be my biggest cheer leader and if I give up, I would effectively be joining the rest of the world in bringing myself down.
As a child I remember watching a series on Kabir, our Indian saint poet. Unfortunately, I am unable to locate the reference so I cannot quote the exact words. But if you can take my word for it, at one point he says-
Agar tum bhagwan ko jante ho to kisi aur ko jaano ya na jaano, kya fark padta hai.
Aur kyunki bhagwan tumhe janta hai to koi jane ya na jane, kya fark padta hai.
(If you know God then it doesn't matter if you know anyone else or not. And since God knows you, it doesn't matter if anyone else does or doesn't). I quote this because this simple yet profound philosophy has often come to my rescue when I am seeking recognition and I don't get it.
And since I am a parent, I just want to add here that we need to instil a sense of self-worth and self-belief in our children too. Criticise if you must, but ever so gently. Children have the innate urge to please their parents and the adults around them. Do not abuse that privilege. If they think they can never please you they will grow up into adults with low self-esteem.
All of us just have dig deep inside us to be able to believe in ourselves, even though we know we ain't the smartest or the most talented ones around.
I am often asked why I like ShahRukh Khan so much considering his average looks and often mediocre acting. I believe, what is often considered his arrogance is actually his amazing self-belief…. And having witnessed where it has taken him, do I need to say more?
Disclaimer: The views and opinions expressed in this article are those of the author and do not necessarily reflect the views of The Wonder Women World. If you wish to write /contribute you can reach us at thewonderwomenworld@gmail.com or here-> CONTACT US