YOU CANNOT GIVE WHAT YOU DO NOT HAVE…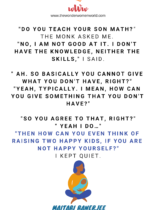 " Do you teach your son Math?" the monk asked me.
" No, I am not good at it. I don't have the knowledge, neither the skills," I said.
" Ah. So basically you cannot give what you don't have, right?"
"Yeah, typically. I mean, how can you give something that you don't have?"
"So you agree to that, right?"
" Yeah I do…"
" Then how can you even think of raising two happy kids, if you are not happy yourself?"
I kept quiet.
" They both will draw everything from you and their father…"
I nodded.
" So, what is it you are trying to say?"
" Very simple my child. First make yourself happy. Fill yourself with a lot satisfaction and peace. It is only then you can nurture your kids the way they ought to be."
" How do I do that?"
"Nothing. Value yourself a little more. Do what you like and love to do. Look for what brings your happiness…The moment you are happy, everything will fall into place."
"Is it that easy?"
"Nothing is easy. But it has to be done… You will see dear, you will have to do nothing. Everything and everyone around you will look happy too…once your heart, mind and soul is at peace."
I smiled. And, I knew what I needed to do.
An excerpt from a conversation with a Monk, that changed a lot of things for me.
Disclaimer: The views and opinions expressed in this article are those of the author and do not necessarily reflect the views of The Wonder Women World. If you wish to write /contribute you can reach us at thewonderwomenworld@gmail.com or here-> CONTACT US