FAILED TO DELIVER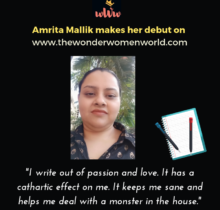 The Undelivered Letter to A Friend
Dear Annie,
Although I could have mailed or texted you, I felt a handwritten letter to my dearest bestie would surely make you smile.
I was elated on receiving the good news from you. After extreme trials and tests you have become pregnant. God has answered your genuine faith and heart's desire. He will abundantly bless you with…
"Mummy!" interruption guaranteed when you have a super-curious toddler at home. Instead of paying him attention how dare his mother start writing a letter?
After a short break the mother returned to her heartfelt wishes for her friend.
…a cute bundle of joy. I would have really loved to be with you on this journey. Despite different stories, we could have shared a hearty laughter together. I may be physically absent but this personal touch, delivered to you by post, will stay with you forever.
Sweetheart, don't be dismayed. The rules in this game of motherhood (battlefield later on!) are unique to each mother. You simply pamper yourself with healthy food and sleep. Stock up your energy from now on.
All the very best for your journey ahead. Have a safe and successful one.
Writing in a hurry. Bye till we meet again.
From,
Goldie
The mother carefully kept the love-letter in an envelope out of reach from the T-Rex roaming at home.
In his absence, she would post the letter. But lo and behold! Despite the many precautions taken, the letter got stolen. Yes! That attractive envelope!
The sincere student etched myriad designs, numbers and letters on it with colours. He had managed to make an airplane out of the letter. It would take him to Kolkata, he assured her while going to school.
Would the mother smile, cry or tear her hair as she failed to deliver the letter?
Disclaimer: The views and opinions expressed in this article are those of the author and do not necessarily reflect the views of The Wonder Women World. If you wish to write /contribute you can reach us at thewonderwomenworld@gmail.com or here-> CONTACT US