LEAP OF FAITH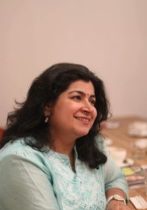 I recently read an interview, of an aerospace engineer, Amrita Mahale, who gave up her job to become a writer and has just published a book. She spoke about 'venturing into unfamiliar territory', fear of 'starting too late' or 'looking ridiculous' and the rejections she encountered in her journey.
I felt a sense of kinship with the lady since I have embarked, in my own humble way, on a similar journey. I am a doctor and that means years of hard work behind me. But I had always wanted to become a doctor and that helped me survive the gruelling journey. It also meant that a huge chunk of my life passed me by (read a regular college life, festivals, partying, missing out on family functions… in one word FUN). I didn't mind it as much then and even now I have no regrets.
However, as the years passed, I sensed I was becoming uncomfortably comfortable. I had a job that had regular hours and juggling the home and work balance wasn't so tough. 'Comfortable' in every possible way but there was an emptiness that was making me increasingly uncomfortable, almost agitated. I felt as if I was working to justify my education and the years, I had put in it.
I'd always had a flair for writing and pursuing English literature was my plan B if medical entrance didn't pan out. It did and my love for language was restricted to reading and editing the college magazine.
But now as the fourth decade of my life loomed in the horizon, there was also a sense of urgency to leave a mark somewhere (legacy would be a huge word but you get the picture). After a lot of procrastination, finally I started a blog and right from the first post, I felt liberated. In fact, my first post was borne out of frustration and after that there was no looking back. This was almost a year and a half ago. I have tasted modest success and also ventured into fiction which I had never thought I would.
Six months ago, I quit my job and now I'm writing full time. I'm gripped with fears and uncertainty and every day I brush them aside. There are days when I stare at the wall with not a word coming to my mind. It is boring, gruelling, and a test of grit and patience more than anything else. That's when I question my sanity. I also field 'well intentioned' questions about what I do and they are not satisfied when I say- writing. I imagine them shaking their head in disapproval. It hurts… but I move on. Passion and hobby are not interchangeable as a lot of people tend to think. They can't acknowledge that with time people change and their interests too. It makes me uncomfortable but its their biases and I can't dwell on them for long.
But now that I have found my voice, I ain't giving it back. If I had to tell you how I feel about it, I'll paraphrase Margaret Laurence- when I now say work I only mean writing. Everything else before this was just odd jobs
Meanwhile, my daughter finds it cool and I the pride in her voice is obvious when she says 'my mother is a writer and oh yes, a doctor too!' (which is more of an afterthought). That gives me hope that at least, if nothing else, my leap of faith will make her braver to step out from her comfort zone when if she finds herself in one.
We all have something that makes us feel alive and we should make an honest attempt to find it. In the words of Terri Guillemets, Chase down your passion like it's the last bus of the night
I have taken the leap of faith from being uncomfortably comfortable to comfortably uncomfortable. What's your plan?
Disclaimer: The views and opinions expressed in this article are those of the author and do not necessarily reflect the views of The Wonder Women World. If you wish to write /contribute you can reach us at thewonderwomenworld@gmail.com or here-> CONTACT US