DANCING IT OUT…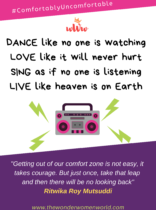 Growing up in a Bengali household, I was exposed to "Robindro Songeet" (poems and songs of Rabindranath Tagore) from a very young age.  Blessed with a good voice, I always used to sing in school, amidst family, in gatherings, win singing competitions.  But one thing that I was always in awe of was dance; not the usual Indian classical dance but the full-on Bollywood dance.  I used to admire my friends who would dance "bindaas" in college gatherings, parties, and I also wanted to dance like them, but could never gather the courage or confidence to do so.
Life went on. I got married, had kids, became busy raising them, yet that desire to dance freely was there. Around 4 years ago, I had joined a Zumba class and there an annual event was conducted where all the students had to dance, yes to Bollywood numbers! I and my batch of 4 more women practiced a medley of Bollywood numbers day in and day out. Then came the D-day. All dressed up, with heart beating really fast, my years of conditioning and confidence challenging me; I was all set to rock the stage.
Our names were announced, our group went on the stage, and there I was along with my group dancing freely to Bollywood numbers with my husband and children in the audience cheering for me. My dance teacher and others in the audience also appreciated my performance later. It was all surreal for me. It took me 3 decades to come out of my comfort zone and dance on stage. The best part was that I was performing in front of my husband and children who have always encouraged all my endeavours and pushed me to get out of my comfort zone and try something new.
Now, there's no looking back! When there is DJ playing songs in any event, I dance "bindaas"..
Getting out of our comfort zone is not easy, it takes courage, but just once take that leap and then there will be no looking back.
Disclaimer: The views and opinions expressed in this article are those of the author and do not necessarily reflect the views of The Wonder Women World. If you wish to write /contribute you can reach us at thewonderwomenworld@gmail.com or here-> CONTACT US