NAMMA BOOMI!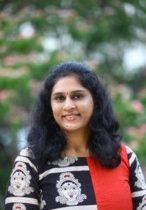 An Initiative To Free The World From Plastic
Ms. Arulpriya, the Founder and CEO of Namma Boomi is a Wonder Woman in every sense of the word. After working in HCL for 8 years, she quit to start her own company. The trigger was fruit peels lying in a plastic garbage cover! The sight troubled her immensely and she felt a strong urge to delve deeper into research in waste management. She began by trying to develop and  implement a waste management system in the apartment complex where she resides. She did not stop there. Through consistent hard work and perseverance she went on to build a company- Namma Boomi that offers a variety of environment friendly options to achieve an extremely important mission- To help smoothen the transition to a plastic free world.
By
Your journey in environment conservation began with devising and implementing a waste management system in the apartment complex where you reside. How did that initiative motivate you to go ahead and build a significant company like Namma Boomi?

In our apartment complex-Rani Meyammai Chettinad Towers (RMT), we have a small temple, where puja happens on a regular basis. Periodically, special prasad is distributed during Sankara Hara Chaturthi puja. The prasad was generally served on Thermocol/Styrofoam plates which is neither degradable nor recyclable. Each plate would take a 1000 years to degrade. Also, because these are generally made from petroleum products, they react with food thus making food carcinogenic. This bothered me more and led me to search for biodegradable alternatives to the Styrofoam plates. Later, I convinced the temple committee to switch over to Areca Plates. These plates are made from shredded leaves of the Areca Palm Tree. I began to believe soon after, that I must start a company that would make environment friendly alternatives to single use plastics, more easily available.
How has the journey been so far? What hardships did you have to face along the way and how did you deal with them?
The journey has been challenging, but interesting. Initially, enabling people to understand and accept the importance of segregation and waste management was tough. But I never get tired talking about it. I make sure to keep spreading the word, whenever I get the chance. The committee of my apartment changes every 2 years and with each committee, I had to make sure that waste management was discussed and the required infrastructure for this purpose was put in place.
I started creating awareness by sticking the posters that said "What happens to the black garbage that we throw out". Initially we collected only dry waste by providing blue coloured bins. Plastic waste thus collected was then sent for recycling. I would like to mention that one particular year, we sold used plastic for Rs.15000 and incentivized 22 housekeeping ladies by distributing that amount among them. Then we got the composting facility for our entire neighbourhood- MRC Nagar.  We distributed three coloured bins to all the residents and colour coded collection bins were placed in each basement of our apartment complex. The housekeeping ladies were trained to collect the segregated waste from the residents and dump it into the colour coded bins in the basement.
 I also used to go to each and every house to check whether the residents were segregating their waste according to the requirements of the system. On one such occasion, I found that one of the residents hadn't segregated. She had mixed everything together and had placed her bin outside. She wasn't at home. But I knew I had to get the message across somehow. So I wrote on a piece of paper, "Please have three coloured bins. Put all your wet waste in green colour bin, dry waste in blue colour bin and sanitary waste in red colour bin. Please do not mix. This is our first step towards saving our environment." I also wrote my phone number on it.
She called in the evening and shouted at me, "You know I am a teacher and do you know about my qualifications? I know what to do and I know all about ecology and environment. Who are you tell me about it?"I simply replied, "I know you know everything but please segregate from tomorrow on wards."
Wet waste is now collected and taken to the composting facility for further processing and to be converted into manure. The dry waste is deposited in the URBINs. This is a concept developed by Kabadiwalla Connect. These have built in sensors which send text messages to the neighbourhood kabadiwallas when the bin is full. They take it to recycling centers. As for the unsegregated waste and sanitary waste, they are collected by the Chennai Corporation garbage trucks and dumped in landfills. I hope that someday we can completely eliminate landfills. These have tremendous impact on our environment. They pollute groundwater, burning garbage causes air pollution and landfills release dioxins that are carcinogenic.


Over time, many of the residents in the apartment complex where I live have supported the cause and changed. They have got accustomed to segregation. However, there is still work to be done. Only 75% of the apartment's residents are segregating. The rest perhaps are yet to realise that they can make a huge difference by adopting a new habit- waste segregation. Eventually, I hope that one day, there will be no overflowing bins with mixed waste outside the apartment complex.
Have you approached small food joints that often use plastic for serving food?
I have been to each and every hotel in the food courts in malls to sensitise them about the problems caused by using plastic and offered eco friendly options to replace plastic. But the awareness is low and cost higher, thus making people indifferent to eco-friendly options.
Every day has been a learning in terms of learning business, handling money and customer interaction. But the change is coming. I am happy to see more and more people using reusables like stainless steel plates and banana leaves. I have come to realise that I must continue working for change. Patience is the key.
What are Namma Bhoomi's plans for the future?
As the plastic ban has come in to force as of  January 1st, 2019, we are trying to reach out to many places across Tamil Nadu and make our eco-friendly options available. Namma Boomi's long term goal is to make Zero Waste possible.
I have been to your workshops for children. It is incredible how you reach out to children and educate them about the importance of segregation and composting. Can you share any special experiences you have had with them?

As and when possible we reach out to schools and conduct workshops to educate children about the importance of waste segregation and how they can play an important role in safeguarding our environment. As part of these workshops we conduct activities such ecology quiz, storytelling about waste segregation and so on. In one such workshop, kids came dressed in green or blue or red and distributed the three colour coded bins for segregation.Each kid pretended to be a colour bin and explained beautifully that kitchen waste should go in green coloured bin, plastic,paper wastes should go in blue coloured bin and sanitary waste must go in the red colour bin. We also discussed how plastic can be avoided by shifting to eco-friendly alternatives. It was extremely satisfying to conduct that workshop as soon after, I saw the children telling people using plastic bags, to avoid plastic.


I would like to make a special mention here about a workshop we conducted for Shrine Vailankanni School kids. We called the workshop "What comes from nature goes back to nature." They understood the concept of composting by actually doing it. Together they layered Green(wet waste ) and Brown (dry leaves/microbes) and they harvested the manure in 40 days.They yielded 2.75 kgs of manure by layering 5.35 kgs of veggie waste and 10.7 kgs of microbes They then donated the manure to the farmers. I am told that they are continuing to compost and are selling the manure now.

Any concluding note you would like to share with the readers?


For all the problems we face, we as individuals can make a difference by segregating waste at the source and consciously choosing eco-friendly options over especially single use plastic items. Simple changes in one's lifestyle such as remembering to take shopping bags when you go to shop, carrying your own water bottles etc can help preserve our environment. Let's lead a minimalist life to bring down the burden on Earth. After all it's our Earth.Let's all take care.

Namma Bhoomi is giving complete eco-friendly solutions through the following programs
"#CutCookCompost" to handle the wet waste by composting it ,
"Plastic Love#Break The Rules" by providing solutions to the single use plastics and way to reduce Plastic waste.,
"Period Love#Bleedgreen" campaign which talks about Sustainable Menstrual alternatives
To purchase their eco-friendly solutions please visit www.nammaboomi.com.
Disclaimer: The views and opinions expressed in this article are those of the author and do not necessarily reflect the views of The Wonder Women World. If you wish to write /contribute you can reach us at thewonderwomenworld@gmail.com or here-> CONTACT US