BRING OUT THE YOU IN YOU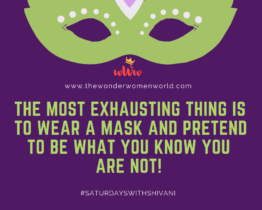 Oscars have been on our mind this whole week. One of ours won, that made me proud… especially because of the theme it was centred around… but more about that another time. What stole my heart, was the speech delivered by Olivia Coleman, when she was declared the winner of the Best Actress Award for her role in the movie 'The Favourite'. Ironically, despite the movie's title, the star wasn't an exact favourite. But not only did her performance win, it was also what she had to say about it that won so many hearts.
She had to be helped out of her chair because she was just too shocked to respond. When everyone was busy maneuvering their dresses and the trails, this lady just bunched up the whole thing and moved on to the stage. Through her tears and giddy laughter, she thanked everyone, as she allowed it to sink in. She acknowledged Glenn Close saying – 'you've been my idol for so long and this is not how I wanted it to be.'
Honest, genuine, heartfelt, shorn of all glitz and hypocrisy….it got everyone talking!
She went on, "And any little girl who's practicing her speech on the telly, you never know. I used to work as a cleaner and I loved that job but I did spend quite a lot of my time imagining this."
What's not there to love in that beguiling manner of hers? And it was palpable in all the appreciative laughs she got. A far cry from the rehearsed acceptance speeches, the fake smiles and the forced humour, that we are so used to.
Now, if we loved this in a celebrity, why do we not appreciate it in real life? Why do we tolerate and often encourage hypocrisy? We fake ourselves through our lives, say stuff we don't mean, laugh when we don't see the humour. Why… because we want to earn appreciation (which may be fake as well) …. we don't wish to come out as too brash, I mean why?
And with more and more of us living in the virtual world, its convenient to hide our true emotions. But somewhere it takes a toll on us. Not just because we are masking our real selves and losing ourselves in the process but also because we are condoning hypocrisy in others as well.
Try going au naturel (being in natural style or condition). I know it's not simple but its liberating. It lasts longer and gives you credibility. Just consider yourself as a brand. For its long-term credibility, the makers have often resorted to coming out clean (at a point of time Listerine marketed their product as 'the taste people hate twice a day' and needless to say it worked). The same is with us, people come around once they know 'jo dikhta hai wo milta hai' (what they see it is what they get).
Of course, that would entail learning how to take in others' candour with the same equanimity. And be mindful of the fact that HOW you put your point across is as important, if not more, than WHAT you say! There's a thin line between being straightforward and being rude or outspoken. Knowing when to shut up makes all the difference.
Once you shed that false skin, believe me you wouldn't want to take it up again. Go ahead, breathe deeply, be yourself and live fully. Bring out the you in you before you yourself forget what it means.
Disclaimer: The views and opinions expressed in this article are those of the author and do not necessarily reflect the views of The Wonder Women World. If you wish to write /contribute you can reach us at thewonderwomenworld@gmail.com or here-> CONTACT US