SAILAJA VISSEMSETTI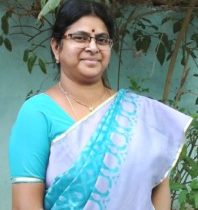 "To move forward, you have to give back" this quote by Oprah Winfrey came to mind when I started to write about the wonderful Sailaja Vissemsetti.
Married at 14 years of age, she continued her education with the help of her husband and parents. She juggled her responsibilities as a very young bride, managed her home and yet stayed focused on her studies. She went on to complete her MSc. in Psychology.
Sailaja, grateful for everything she had and all the opportunities she received wanted to do her bit and give back to the world. She decided to put her education in psychology to good use and took on counselling cases for those coping with marital issues.
In her years of experience counselling people from various backgrounds, she recognized that a strong base of moral values was required in the children of our generation and it was to be imbibed from childhood. She decided to do something about it and set up a foundation called Sahaja Foundation and started working with children in schools and colleges to raise awareness in various aspects that of social impact. Apart from conducting counselling sessions, some of their campaigns include:
· Donate Re-Donate (books)
· Girl Empowerment (menstrual hygiene sessions)
· Give Back to the Society (donations to the needy students)
The foundation has also organized scholarships, stationery, notebooks and other essential items for students who are below the poverty line but excelling in academics.
There is more to this wonder woman than meets the eye, Sailaja has written several articles on parenting and other psychological aspects. Her work has been published by leading newspapers and magazines. She has recently set up a YouTube channel called Mana Sahaja Maina Kathalu which she says, is to "bring back the glory of our Telugu language and its rich heritage. The stories she shares are centered around inculcating decision making and problem solving skills in young children." You can catch the stories on the channel every Tuesday and Friday (YouTube channel – https://www.youtube.com/channel/UCNLI-AWruGOICLsfTLKmzWQ)
Ask her what she loves to do in the spare time, and pat comes her reply, "I love to fabric paint, dabble in mural and newspaper art but my favourite way of spending time is to be with my grandchildren and take the positive energy from the little souls."
Disclaimer: The views and opinions expressed in this article are those of the author and do not necessarily reflect the views of The Wonder Women World. If you wish to write /contribute you can reach us at thewonderwomenworld@gmail.com or here-> CONTACT US