CRAFTING MY DREAMS!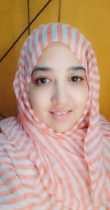 #ComfortablyUncomfortable
"It's never too late to be what you might have been" – George Eliot
Meet Arjuman Mehmood Khan, 42 years old, mother of two dashing teenage boys. Arjuman spent twenty fulfilling years being a full-time home maker, a hands-on mother, wife and daughter-in-law. She still continues playing all these roles with elan…but at the age of 40, she decided it was time to find her own identity, to start crafting her dreams, to get out of her cozy comfort zone. And in order to do that she started, Cake Kraft – a home based bakery.
"The whole process was triggered by my family and friends who pushed me to start on my own. I am very passionate about cooking and baking – I guess they saw the potential in me before I did! It has been a couple of years now and I am eager to see my business grow. For now, it is spreading via word of mouth and through social media. But I am so inspired by all the women featured on The Wonder Women World that I am eager to take it to the next level and set up my own YouTube channel!"
Ask her about how she felt at the start and she answers with honestly, "Because my business is home based, it took some time to earn good will and trust of my client base. But I realized one must be confident about your passion and learn to love your self – the rest will follow!"
Arjuman feels blessed to have supporting friends and family – which made her transition from a mom to a momprenuer a little easier. She says, "My sons are my best friends and in fact, my entire family has cheered for me and are truly proud of me. They love it when my clients praise my craft. " She adds with a smile, "They even help me shop for ingredients and are my first critics when I try something new!"
Arjuman decided to raise the bar for herself, she was apprehensive at first – but was encouraged by the fact that it is never too late to start. She took a leap of faith and she wants you to, "Take baby steps towards living your dream. Happiness comes from within and if you make yourself happy first, you are sure to spread the joy with those around you!"
Disclaimer: The views and opinions expressed in this article are those of the author and do not necessarily reflect the views of The Wonder Women World. If you wish to write /contribute you can reach us at thewonderwomenworld@gmail.com or here-> CONTACT US