HAVE YOU HAD THE TALK?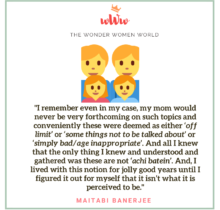 Boy comes back from the school.
" Mumma we were taught about puberty today."
I nod.
He giggles.
" And, what did you learn?" I ask.
He fidgets. He looks away.
I ask him again. And then tells what he has to.
After listening, I ask, "Were you all laughing at this?"
Boy gives an emphatic yes, and says, "some were saying these are not good things to discuss."
And I knew where the problem lies.
Why talking about love, sex, puberty etc etc is a bad thing?
I remember even in my case, my mom would never be very forthcoming on such topics and conveniently these were deemed as either 'off limit' or 'some things not to be talked about' or 'simply bad/age inappropriate'. And all I knew that the only thing I knew and understood and gathered was these are not 'achi batein'. And, I lived with this notion for jolly good years until I figured it out for myself that it isn't what it is perceived to be.
I have realised it also that the more we shun these issues beneath the carpet, the more murkier it gets and the more kids get a creepy and disoriented about the whole topic.
And the end results?
A botched up young mind that breeds a sense of misjudgement, and further complicates the basic fulcrum of life.
We need to talk. And talk at large and rather openly and age appropriately about the things and make them believe that this is also a bare necessity of life. And, that must be understood with an open mind.
As parents, unless we speak about this issue prudently, our kids will be perennially confused.
The choice is yours.
MORE BY MAITABI…
TEACHERS MAKE, BUT THEY BREAK TOO.
MOST BEAUTIFUL THING LIFE CAN OFFER
Disclaimer: The views and opinions expressed in this article are those of the author and do not necessarily reflect the views of The Wonder Women World. If you wish to write /contribute you can reach us at thewonderwomenworld@gmail.com or here-> CONTACT US