WHAT'S THE SECRET?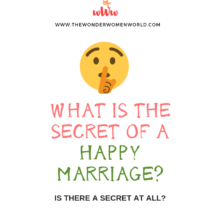 Picture this: Two strangers meet in an arranged marriage setup, chat only for half an hour, and wham get married in 6 months' time. They don't know each other well and when they do they realize that the wife loves masala Bollywood movies while the husband loves his Hollywood sci-fi movies; the wife loves fish whereas the husband doesn't; the wife loves to socialize more the husband is a homebody; the wife is messy whereas the husband is finicky about clean utensils; and lo behold within 10 months' time, even before they have spend an year with each other, they are blessed with a child! Sounds like a perfect recipe for a disastrous marriage?
Well..we just celebrated our 17th marriage anniversary on February 3rd and yes we have had a blissful 17 years despite many differences, many ups and downs, balancing many relations, raising 2 children without any help and many other challenges. Still the smiles, love or respect for each other has never ever left our marriage, rather it has increased with each passing year.
Many people ask me about the "secret" of our happy marriage. Well, to be very honest, there is no secret as such. Marriage is a thousand little things, can't just pinpoint one thing for making it successful. The first rule is not trying to change each other. A 20+ or 30+ person should not be expected to change as per convenience. Of course, when two individuals share life, they adjust, but it should be willingly and not forced upon. Secondly, don't have too many expectations. Our society is such that it has certain standards of beauty for a girl, expectations of a certain income from the boy, fixed notions about families and values; the more you have baggage of expectations the unhappier you are in the new relationship. Suddenly, the couple starts feeling that their dream of an "ideal partner" is getting shattered and that's where the problem begins.
I and my husband never ever dragged or shamed our parents even in the worst of arguments. Even when we felt something about our parents, we talked it out. In most cases, couples become very defensive when it comes to their parents. They should realize that their parents can be flawed too! Instead of calling names or fighting with each other, they should try to have a healthy discussion.
Lastly, marriage is about sharing a lot and ignoring some. We both have been equal parents, given each other equal space, and a lot of times ignored the differences. One needs to believe that the husband and the wife despite being a unit are two different individuals first. When they treat each other with love and respect, their children also learn the same.
Now, 17 years and 2 kids later, with some extra weight and grey hair, happily snoring and burping around each other, the journey of the 2 strangers has become the journey of two people who are a unit.
No marriage is flawless, no couple is flawless, accepting each other with the flaws is the secret…
Read her other articles here ->
I AM AN OPTIMIST, NOT A SHOW-OFF
Disclaimer: The views and opinions expressed in this article are those of the author and do not necessarily reflect the views of The Wonder Women World. If you wish to share your views you can reach us at thewonderwomenworld@gmail.com or reach out here CONTACT US