PARENTING HAS NO RULES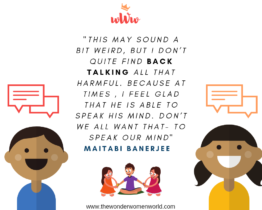 Boy is growing up. And he back talks.
It is a thing that can be slightly flustering as a parent. Because none of us ever want our child to back talk. Be obstinate and rude. But, it is happening. I am seeing it often now. The texture of language is also changing a bit. He is sometimes talking the way he should not.
That is what everyone says. But do I feel the same way?
No.
This may sound a bit weird, but I don't quite find back talking all that harmful. Because at times , I feel glad that he is able to speak his mind. Don't we all want that- to speak our mind.
Parenting has no rules. It is a territory where you learn in every step. And more so, your personal experiences shape you up. No right or wrong. What hold good for you, may not be for me. And vice versa. But what I understood from my eleven years as a mother that there is no alternative to an open channel of communication with your child. At a time, when kids are struggling as much as we parents are, a communication that is open and clear is imperative. And in that sense, even if the child is being rude for a while or is lashing out, it is better to understand that he feels he can open up so he is.
It hurts though. As a mom it does. But ignore. Tell categorically when the child gets overboard. But by and large don't interrupt his communication. It is important that your boy or girl knows that home and parents are the only two places where there is no pretences. He can be what he is. He can feel what he wants to. And say his heart out.
Back talking is temporary. It is a phase in the growing up years. It is something that will fizzle out in couple of years.
But, what will eventually stay, is the relationship that you build. The love, faith and connect that makes him what he/she is. And makes you what you are.
Back talking, let it be. At least he is talking his heart out.
Kafi nahi hai?
MORE BY MAITABI…
TEACHERS MAKE, BUT THEY BREAK TOO.
Disclaimer: The views and opinions expressed in this article are those of the author and do not necessarily reflect the views of The Wonder Women World. If you wish to write /contribute you can reach us at thewonderwomenworld@gmail.com or here-> CONTACT US