WHAT'S YOUR VERDICT?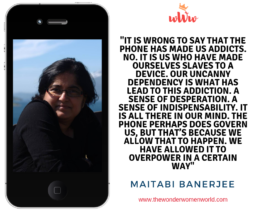 We belong to the phone ? Or the phone belongs to us?

It has been ten odd days that I have been without a phone now. A device that has been my constant companion for years now. Yeah ! Did I say anything wrong? Isn't that the case really for many of us. All of us, perhaps.

So, when my phone crapped on the evening of 31st December, I was crestfallen. What to do, now? How am I going to wish? What happens to Whatsaap texts? The calls? And not to forget the Apps, which I use day in and out. I mean, just a phone, and I was as if dealing with an irreparable loss. Gosh !!
The first two days were miserable. And trust me, I shouted and screamed at people for not helping me enough with the cause. But, the reality was, there was nothing that could have be done, really. I was traveling back from my vacation and no way my phone could have been rectified.

Wait was the only option.

Surprisingly, in the next few days, my craving for this device started fizzling out. I could manage without it. Had few important numbers saved on my husband's phone and then there was Facebook messenger. That's it. And, two days more, and I was like, it's alright if the phone takes a while to get back to shape. No hurry.

I realised something important.

It is all about the habit that we build. It is wrong to say that the phone has made us addicts. No. It is us who have made ourselves slaves to a device. Our uncanny dependency is what has lead to this addiction. A sense of desperation. A sense of indispensability. It is all there in our mind. The phone perhaps does govern us, but that's because we allow that to happen. We have allowed it to overpower in a certain way.

Convenience that a device and technology give us is certainly unparalleled. But these things cannot rule us. We humans are far more agile and controlled. We must not forget it.

I have realised that it is all upto me. It is upto me whom I want to dictate and whom I allow to enslave me. I am gonna be a little prudent henceforth. And, I know what I intend to do.

And, you?
MORE BY MAITABI…
TEACHERS MAKE, BUT THEY BREAK TOO.
Disclaimer: The views and opinions expressed in this article are those of the author and do not necessarily reflect the views of The Wonder Women World. If you wish to write /contribute you can reach us at thewonderwomenworld@gmail.com or here-> CONTACT US