CHRISTMAS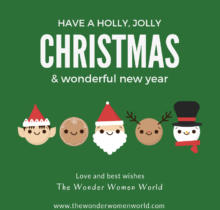 I grew up in a defence estate. I grew up with friends who belonged to different castes, creed, religions and spoke different languages. I never bothered. In fact we never bothered. We ate and spent time together. Like one. There was a sense of oneness.

My neighbours were Christians. And hence Christmas was a festival close to my heart. Yeah, I never went to church for the prayers, but I did everything else that would make me a part of the festivity. Their festivity. The defence club had programs for every festivals. We sang carols. Danced and put together a skit. We had fun. We enjoyed. Honestly, nothing else mattered. Did I tell you about the food and the cakes?

Oh well.

I live in a very different environment now. In a city. With many more people around me. Many more people to connect, to feel close to. But sadly, I don't. I miss my good old days. Or shall I say my unalloyed days. I don't know why? There is skepticism, cynicism that looms large everywhere. I feel sad.

But amidst all this, again, here too my neighbours are Christians. I hog biryani and cakes during Christmas. I admit, I don't participate like before, but it feels good to even stand and be a part of someone's merriment. It feels gratifying.

Daughter, this year sang carols. She gave gifts to her friends. He decorated a Christmas tree. She smiled. She was happy. I saw my past in her present. I felt hopeful.

Love is all about that, isn't it?

To accept. To embrace. To rejoice.

Let's do it na, for everyone around us. Always. Unfailingly.

Have you thought how 'Merry' will become 'Merrier' with just a smile?

Let's try. Let's make a difference. Let's burn a candle.

Trust me, you will smile a bit longer.

I promise.
MORE BY MAITABI…
TEACHERS MAKE, BUT THEY BREAK TOO.
Disclaimer: The views and opinions expressed in this article are those of the author and do not necessarily reflect the views of The Wonder Women World. If you wish to share your views you can reach us at thewonderwomenworld@gmail.com or reach out here CONTACT US