GRIEF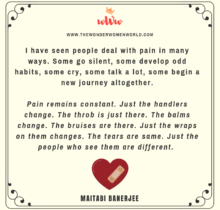 ARE WE TRULY ABLE TO WEIGH SOMEONE'S PAIN OR GRIEF?
The other day Maa and I got talking, and she was telling me about a death in the family. And, also how, even though everyone knew it was coming, still it was difficult to accept once it happened. I heard her. And she said, "you know, dealing with death and the aftermath is very individual. You can never weigh it from your own stance."

True na?

How do I know what was the depth of relation between two individuals to even comment on what he or she must be going through. While it is important to move on in life and tread ahead slowly, it is imperative to understand that grief is a very personal emotion to deal with. Interestingly, at a talk show somewhere I heard a widow stating that "if I am not his widow, I don't justify my love for the man who died." No matter how insane these words may sound, but at the end of the day it is very personal choice and an even personal emotion to deal with. And, we can only stand and look at things unfolding from a distance.

Over the years, I have understood and accepted this fact. I have seen people deal with pain in very many ways. Some go silent, some develop odd habits, some cry, some talk a lot, some begin a new journey altogether. And then there are others who bounce back in life, pulling out strings of their life as if nothing happened. In all of them, and I say this from my very own experience, pain remains constant. Just the handlers change. The throb is just there. The balms change. The bruises are there. Just the wraps on them changes. The tears are same. Just the people who see them are different.

I think, all we can do is to accept their pain and their ways, and not find faults there too. Let those grieving souls have their own landscape and ecosystem to live with. Then, and perhaps then, we would evolve better as an empathetic society, in more ways than one.

Amen !!
MONDAYS WITH MAITABI: AND DIWALI IS HERE!
MONDAYS WITH MAITABI: TEACHERS MAKE, BUT THEY BREAK TOO.
MONDAYS WITH MAITABI: SHE IS BOSSY!
MONDAYS WITH MAITABI: ROLES PAPAS PLAY!
Disclaimer: The views and opinions expressed in this article are those of the author and do not necessarily reflect the views of The Wonder Women World. If you wish to share your views you can reach us at thewonderwomenworld@gmail.com or reach out here CONTACT US