PARAMESHWARI THE LITTLE ASTRONAUT FROM PARAMKUDI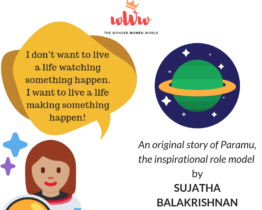 A visual treat and an epitome of a child's imagination awaits you when you visit the Paramakudi municipal school at 4 PM.
A petite eight year old is seen gathering a bunch of friends to play the game of launching a space shuttle. She takes on the role of her favourite astronaut Kalpana Chawla. "Welcome crew to Johnson Space Centre. We will be now launching our space shuttle to the big red planet, the Mars." She gives them instructions after which they pretend wearing their spacesuits and helmets and getting on to the space shuttle. Count down begins: ten, nine, eight……..one  and Blast Off!!
"Hey, we're in the orbit." They act as if they're floating while eating, sleeping and having a walk in outer space.
The other activity is the gravity and motion games like flying a kite or launching a ball in the air and watching it come down. "These are a few of my favourite things", says the little girl with a lot of excitement.
Introducing Paramakudi Parameshwari, the little astronaut  who lives in the southern town of Paramakudi in Tamilnadu with her parents Sivaraman and Sivagami, who both are teachers at a government school. Parameshwari is raised to have an independent thinking and her parents support her in all the pursuits she choses to engage with. The prefix to her name is her choice to be named after her hometown! Despite the weak economic conditions, the parents strive hard to save enough to realize their daughter's dream of becoming an astronaut.
Paramu, as she is fondly called by her parents is fascinated by the outer space,  She spends nights gazing at the sky with her toy telescope and recites the favourite rhyme of her aspirational dream! She is not interested in just watching the planets, but wants to visit them.
I love the outer space
As it's a heavenly place.
–
And I know it's going to be cold
For which I am ever ready and bold.
–
To the moon
I will zoom
And land with a boom
–
I am visiting the planet red
Even if you say I will come back dead
–
My mission is to explore
And make it a travel galore
–
Off on the space ship
Paramu goes on her dream trip
Even though Paramu is raised in a town that generally conforms to societal norms she is free to pursue her interest, which may not be the privilege of even a city bred child. This story reinforces, irrespective of WHERE they're raised, it's important HOW they're raised. Paramu is not confined to gender roles and told she is choosing a male dominated workplace. She is not told she needs to find a hero, but is given the opportunity to become one herself! This was possible only because she was raised in a gender free environment. So, let's not define/ compartmentalize gender roles while raising children.
Let's provide our girls a congenial environment which will help them take informed decisions and not buckle under societal pressure.
Paramu's daily mantra:
I don't want to live a life watching something happen
I want to live a life making something happen!
SUJATHA BALAKRISHNAN, THEATRE FOR CHANGE
ELIMINATION OF VIOLENCE AGAINST WOMEN
Disclaimer: The views and opinions expressed in this article are those of the author and do not necessarily reflect the views of The Wonder Women World. If you wish to share your views you can reach us at thewonderwomenworld@gmail.com or reach out here CONTACT US