CINDERELLA'S STEPMOTHER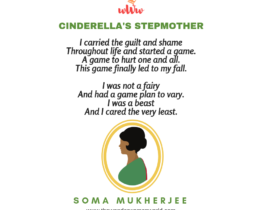 I am the stepmom of Cinderella,
No one knows my fairy tale
Or how it was harmed by a male.
I was harmed by a beast
Who did not care least.
–
When I was young and naive
My uncle dug my grave.
As he abused me and my soul
Guess I lost will to live or find my goal.
–
I carried the guilt and shame
Throughout life and started a game.
A game to hurt one and all.
This game finally led to my fall.
–
I was not a fairy
And had a game plan to vary.
I was a beast
And I cared the very least.
–
This is my #Metoo story
It's not my golden glory.
No one asked my version ever,
But I need to settle it forever.
–
Always be bold and strong,
Life is not a fable or a song.
Now I can rest in peace
God bless you all and I am in a truce.
Disclaimer: The views and opinions expressed in this article are those of the author and do not necessarily reflect the views of The Wonder Women World. If you wish to share your views you can reach us at thewonderwomenworld@gmail.com or reach out here CONTACT US