MONDAYS WITH MAITABI: TEACHERS MAKE, BUT THEY BREAK TOO.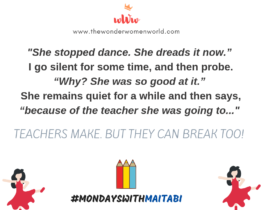 The other day I was talking to a friend whose daughter and my son are classmates. They have been studying together since they both have started going to school. So, it's quite familial.
The friend and I got talking, and as expected school and its functioning becomes a topic of discussion. And, slowly we move to the Creative Writing class that I take for kids. My friend tells me that how important it is to have a good teacher, or else the child at times loses interest in something that he once loved. I agree wholeheartedly. There is nothing that can take away the importance of a good teacher. She asks if she can send her son for classes with me. And I say that there is still time. And we can wait more.
My friend's daughter, who is my son's classmate is quite a talent house. I ask her how her other classes are going on and in reply she suddenly says, "She stopped dance. She dreads it now." I go silent for some time, and then probe. "Why? She was so good at it." She remains quiet for a while and then says, "because of the teacher she was going to." I find it slightly difficult to gulp. That's because I knew that she was learning a classical Indian dance form from quite a renowned name in the city. I ask, calmly "what happened?"
My friend then tells me that few months back as her daughter did some dance postures wrong, the teacher rebuked her so badly that the little girl (her daughter) ended up crying and howling. She felt so insulted and humiliated that forget about going to the same teacher again, she refused to dance again. She just gave up something she loved so dearly. The girl is all of 11 now.
I hear her feeling pained. But, I also know that little tender hearts are not strong enough to take humiliation. They break easily. And, it has happened here too. A dream has broken. A heart has broken. Perhaps, permanently.
MONDAYS WITH MAITABI:AND DIWALI IS HERE!
Disclaimer: The views and opinions expressed in this article are those of the author and do not necessarily reflect the views of The Wonder Women World. If you wish to share your views you can reach us at thewonderwomenworld@gmail.com or reach out here CONTACT US