A TRIBUTE TO MY MOTHER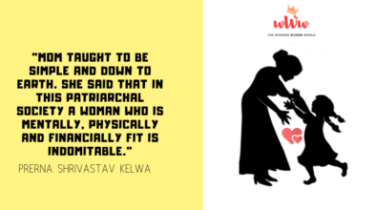 This is my debut blog and I am writing it as a tribute to my mother on her 11th death anniversary. As long as your mother is alive you are a girl no matter what your age is and you suddenly turn into women when her loving hands are not there on your head.
Whatever little I achieved in my life I attribute it to my parents. My mother was a serious task master and used to give me severe punishments for not matching her occasionally unrealistic standards but now when I look back, probably that is what made me reach where I am today.
She taught me to be simple and down to earth. She emphasized on the importance of financial independence for women. She said that in this patriarchal society a woman who is mentally, physically and financially fit is indomitable. She had great interpersonal skills and was very empathetic in nature. She never stopped being a mother…not just to me but to everyone she knew.
Love you Mummy…I bow to you and pray to God to make me your daughter in my next birth as well.
Disclaimer: The views and opinions expressed in this article are those of the author and do not necessarily reflect the views of The Wonder Women World. If you wish to share your views you can reach us at thewonderwomenworld@gmail.com or reach out here CONTACT US