MONDAYS WITH MAITABI: …AND DIWALI IS HERE!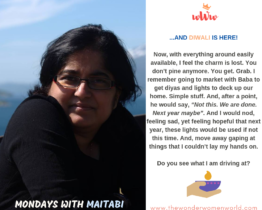 Maa calls up yesterday morning. And, after some initial pleasantries, her most awaited question comes my way, "What's happening for Diwali? Done with the cleaning?" I keep quiet. I am done with nothing yet. I have to do everything. And I am nowhere. But can I tell her that? No way. My Diwali will be over even before it had started. You guys know mums, they seldom stop when they start. And she is also a quintessential Mother India. Gyan ka bhandar. So I play it safe. Safety during Diwali, you see. I was just preventing myself from being bombarded.
Anyways.
So, I do a little, 'hmm' and 'yeah' and keep the phone. What else I could have done, bolo?
And, the lazy bum I am, I scroll my Facebook timeline wasting few more minutes. I see a friend posting exactly what I have been feeling, 'Why festivals don't feel the same anymore?' I mean, seriously, why I don't feel the same pump up that I used to feel every time for Diwali? It being my favourite.
I don't know.
I ask, am I getting old? NOOOOO !! Please that can't be a reason yet. Then what? What has changed over the years?
I mull. Sit. Ponder. Look around. And, then I gather.
Perhaps that innocent simplicity, which is lost. Somewhere. Somehow.
There was a certain warmth that wrapped these festivals before. Simple. Heartwarming. Inviting.
Now, with everything around easily available, I feel the charm is lost. You don't pine anymore. You get. Grab. I remember going to market with Baba to get diyas and lights to deck up our home. Simple stuff. And, after a point, he would say, "Not this. We are done. Next year maybe". And I would nod, feeling sad, yet feeling hopeful that next year, these lights would be used if not this time. And, move away gaping at things that I couldn't lay my hands on.
Do you see what I am driving at?
It is mundane now. Monotonous. There is no charm of anything that 'I couldn't do before' and 'would do now'. Hence, the boredom.
Sometimes, when you don't get it, when certain things are beyond you, you pine, long and that drives your plans and hopes. I don't have that longing anymore. Maybe. Is it?
And, I don't have a Baba by my side also who says, "next year we will buy that. Wait till then."
Kabhi kabhi, kuch na milna bhi acha hota hai.
You look forward. Intezar. Besabri.
Aur fir, woh khushi !! Jane aaj fir kaha kho gaye !!
Disclaimer: The views and opinions expressed in this article are those of the author and do not necessarily reflect the views of The Wonder Women World. If you wish to share your views you can reach us at thewonderwomenworld@gmail.com or reach out here CONTACT US