DR. JYOTI SINGH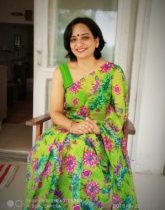 Dr. Jyoti Singh
Founder – Dr. Jyoti's Nutrition Pearls
Soon after my doctorate in 2006, I started my clinic in Chandigarh. It was after much of deliberate planning and rigorous ground work that I could finally set up my dream project. The clinic eventually, did exceptionally well and became a hit, with more and more clients enrolling themselves in various diet programs and counselling sessions. I was overwhelmed by my clients' response and that is when I got encouraged to write my first book on nutrition and dietetics "Handbook of Nutrition and Dietetics ". I also started as a freelance writer: wrote articles in esteemed newsletters like Times Of India, Hindustan Times and many various online portals. With the growing popularity and diet awareness in people, it was that time of my career, when I found myself extremely busy with not only my clinic but also with various invitations for Radio Talks and TV interviews.
Life became busy yet fun. After all, this is how I wanted it to be. I wanted to contribute to the society. But, as they say, a woman's professional life and personal life are always in conflict. Due to family reasons and responsibilities of a home maker and a mother, I had to move out of Chandigarh. My husband who defends our motherland needs to move places as part of his profession and I definitely couldn't decide otherwise of not moving out with him, as my children were very small. It was a time to take a break perhaps !!
Meanwhile, I was always approached by my various clients and friends to start up online consultation. That too was far from remote possibility for me that time, as I was nurturing motherhood and was also enjoying doing so ! But I kept studying my subject. Now, when my kids have grown up, I am finding time to reconnect with my passion and dream. I believe in living healthy and if I can encourage people around me to do so, I will consider myself fortunate in accomplishing my dream. I intend to bring health awareness to people. Make them aware that it's not only food, exercise and sleep but also your mind-body connection that is responsible for great health, well being and happiness.
I will be glad if I will be able to help people decode nutrition and demystify health and lifestyle. These days many portals/ pages are available on social media where a great amount of fake promises are made. Unfortunately, many of them are far from genuine. With half knowledge and false assurances, many people find themselves duped at the hands of these dietitians and nutritionists. This is why it is very important to be careful, especially when it comes to health. I provide a genuine platform to everyone to experience a change in health and body weight. I run my diet clinic and give online diet consultation services to those who are struggling with various health problems in day to day life. This is how I am living my dream by creating healthier lives!
If you wish to join The Wonder Women Writers Network you can reach us at thewonderwomenworld@gmail.com or reach out here CONTACT US