THE DAY LIGHTENING STRUCK!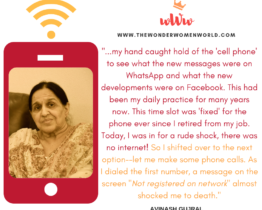 After finishing my morning chores, I settled down on my bed in a relaxed way. Automatically my hand caught hold of the 'cell phone' to see what the new messages were on WhatsApp and what the new developments were on Facebook. This had been my daily practice for many years now. This time slot was 'fixed' for the phone ever since I retired from my job. Today, I was in for a rude shock, I had a faint idea that because of the repair work going on in the house, some wires had got snapped. Hence it was possible that there would be no network connection. So I shifted over to the next option–let me make some phone calls. As I dialed the first number, a message on the screen "Not registered on network" almost shocked me to death. Earlier on many occasions, when wi-fi failed, I kept myself busy by making some phone calls. This always served a very good purpose. Being in touch with some close or not so close relations was always fruitful. Sometime in the day, I got calls from my children giving me some instruction or just inquiring about something at home during their work hours. By the time, all this was over, it would be time for lunch and afternoon siesta.
But today, everything changed. I tried various numbers–but every time the same callous caption stared me in the face. My initial reaction was that of disbelief which started changing into anger, frustration and madness in quick succession. Finally, when it became clear that the situation was utterly hopeless and I had no solution to the problem—the landline phone already lying 'dead' and no other phone available in the house—I resigned myself to my fate thinking "what cannot be cured must be endured."
It was during this period of endurance that I started brooding over the time, not very long ago, before the onslaught of cell phone or even fixed line phone for that matter. Till the seventies even landline phones were rare and there were no public telephone booths. Life was going on smoothly. We reached our respective workplaces, children went to their schools. No unnecessary anxiety about household during work hours. In the afternoons, everyone came back. All discussed whatever had happened during the day. All shared experiences on daily basis, exchanged jokes, tidbits routinely. Never felt anything amiss. Life was full, complete, enjoyable and 'tension free'.
Shift over to today's scenario–the network got disconnected and the whole world seems to be collapsing. We like floating in the thin air without any prop or support. "If something occurs-how will the dear and near ones come to know; if some "mishap"–oh ! no, God, not today–no way to get connected."
I kept on brooding. The whole day passed–nothing negative took place ,but one positive thing did happen—I was able to put my wandering thoughts into a proper write-up.
Till next time then–when the cellphone goes on a lightening strikes again.
Disclaimer: The views and opinions expressed in this article are those of the author and do not necessarily reflect the views of The Wonder Women World. If you wish to share your views you can reach us at thewonderwomenworld@gmail.com or reach out here CONTACT US