SOMA MUKHERJEE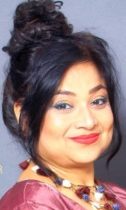 I was born in the Steel city of India, Jamshedpur. Having always excelled in studies, I was keen on becoming a doctor but my parents were strict and conservative and did not want me to pursue that career. I was good looking and ambitious, was known to be a rebel who did not want to marry or give dowry. I was however, married off while doing MBA after which I moved to Bangalore and continued studying as hard as I could.
With over 13 years of experience in HR and Administration, I continue learning new things every day and enjoy teaching/training as well. I have trained thousands on the campus and in the corporate world. I also train the underprivileged and it gives me immense satisfaction in doing so.
With a motto to live life to the fullest, I never pass on the chance to try new things like singing, dancing, acting, modelling and writing. I have acted in movies and advertisements and recently won an award for Inner Beauty at the Mrs. Karnataka Pageant held on 10 March.
As a mother to two beautiful daughters (both creative like me), I try to lead by example and never give up on pursuing my list of goals which includes opening an NGO, travelling abroad, writing books and empowering people.
I look forward to achieving all of my dreams and much more!
Read the articles written by Soma here:
If you wish to join
The Wonder Women Writers Network
you can reach us at thewonderwomenworld@gmail.com or reach out here CONTACT US