MARRIAGE IS YOGA!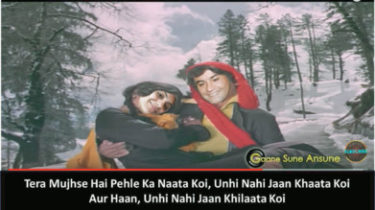 Marriage is Yoga and your Spouse is the Yoga Teacher 😊
Whether you are getting married or joining Yoga, the excitement is the same – You feel like it is going to be the best decision of your life, an eternal bliss, and a game-changer (Not sure about the rest but definitely a game-changer, you will now be playing Mixed-Doubles with Disconnected-Boxed-Brains and Interconnected-Wired-Brains in the same team).
So, you start preparing for THE DAY – Go buy that Yoga attire or the wedding collection; go tell everyone about your Yoga Teacher or your Spouse. Well, even if it is a secret wedding or a private yoga class, the excitement is equal UNTIL THE REALIZATION – You are Married!!!
Day 1 begins with "Mere haath mein tera haath ho, saari jannate mere saath ho" and a lot of energy and enthusiasm interacting with people in the class or the family, trying to create THAT impression, while the Yoga Teacher is pretty nice and all-smiles, teaching you very little yoga. It is just a little meditation and breathing exercises, which make you feel like a pro but hold on Bro. It is just the beginning! First week or rather the first month is great, it's a La-Di-Da time! (you feel safe and you find everyone very cute, including yourself).  //This is also called the Egg-Phase, very cute but short-lived//
Then the Yoga Teacher starts adding a few difficult exercises and isn't always available. Slowly, teacher gets busy and is seen only when you are not doing the exercises well.  And you feel, where on earth is the teacher when I am doing well and appears instantly to correct/yell when I am not doing well (Well that's exactly my job, you idiot, says the Yoga Teacher). You are always looking forward to learning the next aasana but the teacher doesn't teach you the next until you completely master the current. And you feel, what's wrong with this teacher, everyone said this is a great teacher (I should have listened to the few who said otherwise).
By the end of the third month of Yoga/Marriage, you start singing this song "Tadap tadap ke iss dilse AAAH nikalti rahi." The next quarter, you are attending the classes for attendance-sake only (Oh Gosh, this is so boring) and then you find a new change in your Yoga Teacher – The teacher is STRICT! On mute, you tell the teacher everyday – First of all you are so boring and now you are also showing other demeaned features, I don't like (Kalse class cancel, THIS is it).
By the end of the sixth month of Yoga/Marriage, you start singing this song "Kya se kya hogayaaa, bewafa…tere pyaar mein." And you feel, maybe it is time to change the Yoga Teacher XD. But family and friends push you for another 6 months into it saying – no no you can't do this, you have the best yoga teacher, you can't get a better one, you have paid the yearly fees, try completing a year at least and we are sure once you get the hack you will go on forever. //This is also called the Caterpillar-Phase, you are in a rage – you are ready to eat everything and everyone coming your way//
By the end of a year, you are singing this song "Waqt ne kiya kya haseen sitam, tum rahe na tum, hum rahe na hum" and feeling obsolete, you are now spending more time with yourself (telling yourself – you are all you need, you don't need the teacher anymore and there sets in some right motion in this anger.) You start working hard on yourself and you slowly understand the techniques because of the efforts, which make you realize the teacher was always there when you needed, may not be visible all the time but has been watching you learn, watching you progress and held you right on time before every fall! Slowly, there comes a pivotal change, nothing about the teacher or the aasanas have changed but everything has changed about the way you looked at it. You are practicing until perfection and everything is falling right in place! //This is also called the Pupa-Phase, which comes in with a lot of self-realization and hard work//
You are now singing this song "Oh Saathi, tere bina….rahi ko raah dikhe naa" The teacher is now proud of you and the feeling has gotten mutual! You don't miss a single class because you DON'T WANT to miss it (You can always change your Yoga Teacher if things go worse and it is OKAY but its success will always depend on YOU, because YOU are the most important part of your yoga/marriage). Yoga needs good intentions, patience and commitment, and so does Marriage. //This is also called the Butterfly-Phase, which marks the beginning of a whole new life//
Stop focusing on who is wearing what and who has reached which Aasana, concentrating on self is the secret to success. You can't fly high and look colorful until and unless you go through the 4 stages of metamorphosis in Yoga/Marriage/ABSOLUTELY ANYTHING in life!
This article is based on everyday life that happens to everyone (Married Of course!). Maybe the phases are longer or shorter, sooner or later, the intensity is higher or lower, but the phases are Age-Old. Enjoy the journey!
Legend to better understand the article:
Language – Hinglish
"Text in inverted commas" – Hindi songs
//Text in double slash// – Milestones
(Text in brackets) – Straight from the Author's Heart or Lungs, depending on the situation
Yoga Teacher here is Husband/Wife, don't go by the biased 'Husband-Only' tone in it
P.S: The best relationships you have, are always filled with people you want to hug tightly for one moment and you want to sell them at the best price the next moment 😀 Treasure them!
"Koi zorse sareaam karega to koi dheerese ye kaam karega, lekin KAREGA – I am talking about fights here XD. Fights in marriage are like Farts in Yoga, INEVITABLE. Inevitable, until you learn the Mantra – Control Yaar."
Author says: Viewers are requested to take the author's advise at their own risk for she has only 0-1 time experience in marriage.
REENA PUJARI
Disclaimer: The views and opinions expressed are those of the author and do not necessarily reflect the views of The Wonder Women World. If you wish to share your views you can reach us at thewonderwomenworld@gmail.com or reach out here CONTACT US