PREGNANCY PARTNER…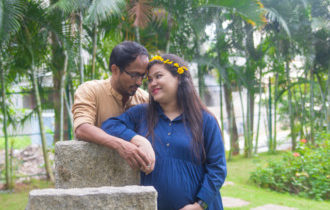 How to be the best pregnancy partner of your wife's dreams? Follow these 8 simple steps to have a smooth pregnancy as a couple.
Have I told you about my husband giving me hair wash every Sunday during my pregnancy? Yes, you heard it right! It's my husband who happily used to put the shampoo on my hair, rub it for seconds, a gentle massage followed by cleansing. Meanwhile, I used to receive the instructions, "Don't bend, and stand straight. Or else your back will ache". Awwww! Sounds romantic isn't it? Now that I delivered my baby, I want those days back. Trust me, those days are incomparable.
Someone truly said, "Being a father doesn't start when the child is born, it starts when the mother is pregnant".   A woman no matter how strong, how independent is she, seeks support during her pregnancy, when she battles with her own hormonal chaos, morning sickness and fatigue, what can be better than having her husband's shoulder to depend on? Ask me and I will say, a simple hug from the husband can make a huge difference during that tumultuous state.
In my recent book "Emotions and Emotion", a pregnancy memoir, I have captured the thoughts of the would-be father. The quotes from him not only made the other fathers nod their heads but also they couldn't find it enough to appreciate his gesture. The book is not only for the mommy-to-be but can be enjoyed by anyone, irrespective of gender. However, this memoir can be best enjoyed by a pregnant couple.
On that similar note, I thought why don't I share my own experiences- the kind of support that I had received from my husband during the 9-months of pregnancy that helped me had a smooth delivery with the amazing readers? Scroll down to know how a husband can help when his wife is pregnant.
Before she asks for: Showing an extra care doesn't hurt and when your better half is pregnant. Growing a child within is exhausting and if she gets a little helping hand for her daily chores it will ease her way.  I would say teaming up always strengthens the bond. Be it laundering, cooking or cleaning up your house.
Being Healthy: It's not only the pregnant woman that needs to follow a healthy routine and a healthy diet. In fact, the would-be fathers need it the most. Start preparing for the baby to arrive by following a healthy diet as you will need to spend many sleepless nights thereafter. Depend more on fruits, eggs, lean meat to keep you strong. If you smoke, it's the best time to quit. These behavioral changes will give a sense of euphoria to your wife and she too joins the campaign of being healthy and fit which is the topmost priority for any pregnant woman.
Be there: Your husband's presence always counts. Always go for the doctor's scheduled appointments together. Enjoy the antenatal scans; listen to the heart beats together. Capture these moments for a lifetime. If your wife has enrolled for antenatal classes, tag yourself along. I'm sure you guys must have fun and good time together. I personally go for long walks with my husband after dinner.
Beautiful, she is: As the pregnancy journey approaches towards the toughest months, your wife's body also witnesses many physical changes along with the hormonal imbalances. She might not like the extra kilos that she put on, the stretch marks, the rough hair and the discoloration of her skin. But your compliment can feel her better- try to pose with the baby bump, buy her bright clothes to cheer her up and tell her that she is "Beautiful".  You can even gift her coupons where she can redeem over a pedicure, manicure or a cleanup.
Being a masseuse: Your wife's foot will swell, her calves will hurt and so as her spinal cord. What can be more relaxing than giving a gentle massage whenever you can? Take a little oil and massage her affected areas gently. The massage not also soothes her but also delivers an undisturbed sleep to your wife.
Be a listener: Your wife needs someone to listen to her. Spend some time with her to know her queries, her fears, her doubts and help in building her confidence towards a healthy pregnancy. It's quite normal for a would-be father too, he too might have questions regarding the future, new responsibilities and concerns. I suggest it to share which not only develops a better state of understanding between the couple but also gives courage to step ahead for a new and a better future.
Be Pro, prioritize: During these 9-months, the best a husband can do is to prioritize his wife. I know its challenging. Meetings, work, family, life is too demanding and busy. But this is the stage that your wife demands you, your support and your existence. Make it a point to prioritize the relationship throughout the pregnancy.
Be the birthing partner: Discuss with your partner you being the support in the delivery room. But it depends, if you can't make it to the delivery room then make your wife understand of your situation. Discuss so that you and your wife can manage your mid-wife or any close ones by her side at the time of delivery.
Hope these simple steps can help you being the birthing partner of your wife's dreams. Remember, no one else can substitute your position- the care and support you can give. Hence, be there with your wife, be her spine and help her delivering a healthy baby!
Banani Das Dhar is an entrepreneur, author, blogger, mom, and an avid traveler. She is the founder of the popular Lifestyle portal www.bananivista.comand authored her book "Emotions and Elation".
Disclaimer: The views and opinions expressed are those of the author and do not necessarily reflect the views of The Wonder Women World. If you wish to share your views you can reach us at thewonderwomenworld@gmail.com or reach out here CONTACT US