IMPORTANCE OF THE RIGHT MENTOR IN THE LIFE OF A CHILD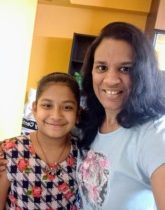 The role of a mentor is very important in the life of any child. I learn a lot from many people – parents, relatives, teachers and friends. But, there are a few mentors who are special in the way they bring out the best in us. Anupama Dalmia, my creative writing teacher, is my second favourite teacher, the first being my mother.  Anupama Dalmia, or Anu Aunty, as we fondly call her, is an extremely sweet and generous person. I had never thought that creative writing can be so much fun. She comes up with wonderfully creative ideas to teach us the creative writing concepts as well as to improve our command over our language. I am yet to come across another teacher who makes children play entertaining, amazing games and also manages to increase their knowledge at the same time. She truly makes learning fun for us.
She is an excellent writer herself who has won many awards and certificates in the field of writing for her short stories, articles and poems. She gives me feedback in a very clear and gentle manner which helps me greatly to improve my skills. I remember all that she says and try to incorporate her teachings in my writing. She has a lovely 3.5 years old daughter whom she manages efficiently along with various other things that she works on. She has curly hair and is beautiful inside out. She has a strong vocabulary and shares a lot of interesting trivia on language and books with us. She also encourages us to read and imagine, and I have started developing a fascination for fiction books gradually because of her.
I feel very comfortable in her presence and can share my innermost feelings and thoughts with her. This is something unique about her because I don't feel that level of comfort with many people. She is like a friend and loves us the way we are. She treats all the children in a special way and that is what makes her special too. Some of my most memorable times with her are from the days when she used to make us all play interesting games or involve us in constructive activities every Friday in our society compound.  We used to enjoy that so much that I have retained the related quiz papers with me even now. Unfortunately, this had to come to a grinding halt because everyone got busy with other tasks and responsibilities. But, I am glad that I can now attend her classes on the same day along with my friends.
I am blessed to have a mentor like her in my life who guides me at every step and not just teaches me her subject but also inspires me to be a better person.
Author: Dhriti Rawat
Age: 10 years
Disclaimer: The views and opinions expressed are those of the author and do not necessarily reflect the views of The Wonder Women World. If you wish to share your views you can reach us at thewonderwomenworld@gmail.com or reach out here CONTACT US