BE POSITIVE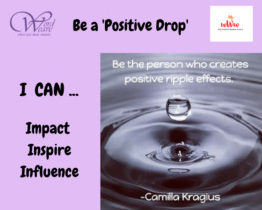 Well, we hear this all the time!
Be Positive, (not to be confused with the Blood Group, of course)
To kick start this week, 'Positive Drops' will fill your lives, so you have just enough and more to soak in and share.
There's so much of chatter outside of us that it honestly takes a lot to keep our sanity intact; environment and the people in it comprise most of how we feel and react. Take for example, the social media. We can feel dejected looking at the happy and colourful travel pictures of a dear friend who has been vacationing in Spain or we could spin out of control reading a Whatsapp message that says that obesity has reached alarming levels.
Anything can topple us over from being under the happy and positive umbrella to wearing the cloak of misery and dull pain that we find ourselves complaining most of the time about what's not going on well for us v/s actually looking at what's actually going on great for us!
This becomes sort of a repeated behaviour where we can lose track of the goodness and niceness that surrounds us!
After all, who was that who said, "Life is a Roller Coaster ride?" Did we think it was going to be plain and boring?
So, how about packing that ride with enough positivity so you know that when you reach the end of the ride, you climb out of it feeling triumphant?
Now, do you want to fill your lives with Positive Drops and soak in it?
What comes to your mind when you read 'Positive Drops'? This can be any word or an image (not quote) that spells 'Positive' for you!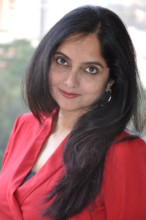 ANU KRISHNA
Impact Maker (Personal Transformation Coach)
Founder, Word Weave
Anu Krishna, a mom of two is a Life Coach and Energy Work Specialist who nudges people into the space of Happiness and Holistic Well being. She loves writing short stories based on real life situations to reach out to people! When she isn't working, she likes spending time reading, travelling, singing and connecting with people from the heart!
Disclaimer: The views and opinions expressed in this article are those of the author and do not necessarily reflect the views of The Wonder Women World. If you wish to share your views you can reach us at thewonderwomenworld@gmail.com or reach out here CONTACT US