FORTUNATE TO BE ALIVE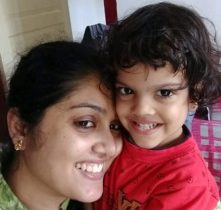 As someone who "almost" witnessed the calamity, I say almost because my parents house in Ernakulam/Kochi wasn't affected . I am currently here with my parents and daughter. But I know I was petrified when the flood water reached just a few miles away from my house. Mainly for my 3 year daughter.
Many of my friends' families and relatives were stuck at various locations and it was heart wrenching to see their helplessness through various frantic messages. Initially when I considered my location "safe" which ultimately it was, all I could do was to call various numbers that were flashing on TV news channels. Most of the lines were jammed but yes finally I did come through one number (provided to me by my friend Lakshmi H Nair) who was totally helpful and informative at the same time. His team managed to rescue and provide food and water to many such stranded families. One of my friend's 5 member family including a 5 month old baby were stranded and the rescue team managed to take the baby and the young mother to a rescue camp but the other 3 members remained back in the house with water reaching almost the 2nd floor of the house. They were surviving with what was just in the house and then thankfully in a day's time, food packages started to arrive. All the people who are out of Kerala were worried sick thinking of their families and friends back in Kerala. I know my husband was and rightly so. There have been instances of phone contacts being cut off and their families we're frantic to get information about them.
It was an extremely heartening sight to watch young boys and girls working relentlessly in the donation camps and relief camps efficiently notwithstanding the rough weather . It's not only restricted to "youngsters" though. Many of my father and father in law's (COSTFORD, Trivandrum) friends and associates and acquaintances including both my fathers have been assisting in every manner possible. Many of my doctor friends (my schoolmates) have been working around the clock at various relief camps. Even senior retired doctors have been visiting relief camps . My friend Amby Nair  in fact is still active at camps and also on social media trying to acquire various amenities and medicines from various sources and she.
Different organizations and individuals went out of their way to provide food, water , medicines and other basic amenities to various camps. While saying this, one of main requirements we have now is sanitary napkins and diapers, even undergarments. Everyone are trying their level best to acquire these especially sanitary napkins but sadly there's a big shortage for the same. I was aghast at seeing a completely empty shelf in a big supermarket. So I appeal to all my friends out there if you could send sanitary napkins mainly – it would help a lot.  Though we would need items to ensure hygiene now more than food materials. We are in need of small Dettol bottle or any other antiseptic liquids (not sanitizers) to be provided to the survivors who are in the relief camps when they go back to their homes which would be deplorable conditions.
It would be sacrilegious if I do not mention about the army, navy and air force, without whom all these people wouldn't have been rescued. I can hear choppers going over my apartment as I type this, I am sure going to either rescue/provide food/or taking doctors to relief camps. These extraordinary mortals were seen as divine beings for whom it was just a day's work but earned a lifetime's gratitude from all those who were saved. Even members of various political parties came together and forgot their differences to work together as a team.
I would also like to extend my gratitude to all my friends who are in other states and overseas for their assistance without hesitation. My sister-in-law Divya Kannan who is based in New Delhi had been actively working at a collection centre there along with sending useful messages time to time.
A fund raiser in the US which started a certain amount has been seeing overwhelming support that the amount has raised to 15 times its initial amount.
My husband Dileep Kannan, my friends and my students in Singapore along with others have done their bit by sending donations in cash and in kind. In fact the Singapore Malayalee Association have started a fund-raising campaign in partnership with Red Cross . Those who collected in kind is sending in a package weighing 1000 kg . Even my neighbours in Singapore had been extremely supportive ( not restricted to Keralites)
Onam festival is round the corner. Malayalees around the world usually celebrate this festival with great aplomb. This time almost all groups (small, medium,big, associations, offices) have cancelled their celebrations and donated the fund received for their celebrations to the relief fund. Many weddings in Kerala (this being the wedding season) were cancelled and that fund was also donated to the relief fund. Those weddings which were happening the week of the flood gave away the food to relief camps and just did a simple marriage registration.
Even as I mention all this, there are a few idiots (pardon my language, but such people can only be called that) who have been spreading hate messages using religion, food-eating habits and many other unwarranted ideas as the cause of the floods. There has been insensitive and false rumours being spreading about the government. In fact there were few anti social elements who tried to do fraud by using the name of another organization on their trucks and acquiring materials to sell them at a higher price. A few instances like that here & there where such people was making use of the "opportunity". Even a small case of "disaster" tourism was witnessed where people would take the Kochi Metro (rides were free) to  see the locations that were affected.
Kochi Metro had to stop service for 2 days but as soon as they resumed instead of working as usual, they started giving free services to those in need  and especially started transporting materials to various locations. Provided the stations as relief camps.
Though I mentioned above wanting sanitary napkins, that's just one thing. Once rehabilitation starts, there are many things which would be required. Clothes, utensils, toiletries, cleaning materials among other things.
I for one feel extremely fortunate to be alive with my family and home intact and will never forget this ordeal for the rest of my life which has taught me many things and made me feel proud of my fellow beings who rose to the occasion and came together as one. Also offering my prayers to all those who lost their lives and livelihood.
Disclaimer: The views and opinions expressed in this article are those of the author and do not necessarily reflect the views of The Wonder Women World. If you wish to share your views you can reach us at thewonderwomenworld@gmail.com or reach out here CONTACT US