SHOMA AND ASHWINI, NRITYANIDHI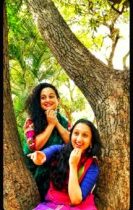 Sisters, who draw their strength from their mother and in turn inspire each other. Meet Shoma Kaikini-Singh and Ashwini Kaikini. For one, dance is pure passion, for the other, it is a means to find inner peace. And together they have made it their life's purpose to teach others the wonders of dance.
Shoma started Nrityanidhi Spiritual Exuberance Through Dance in 2005 and Ashwini, was quick to follow in her big sisters' footsteps and was thrilled to be invited by Shoma to head the Bangalore branch in 2010. Ashwini, is also the founder of a Yoga institute, Vritti- SoulSpace that she established in 2016.
Here's a summary of the interview with this fabulous duo.
Tell us about yourself:
Shoma: I was born in a wonderful family that acts as the foundation to who I am. We travelled quite a lot before we finally settled in Bangalore in the year 1992. I think I was born an adult so I always found it challenging to be a child or make any friends. I was an introvert and a loner. I have always felt distant from the world and i craved to "grow up" and change it! My hobbies include, dancing, listening to music, reading and sitting at cafes. I currently live in Mumbai and I wouldn't live anywhere else in the world. Not even New York or Paris!
Ashwini: I did my entire schooling in Bengaluru, and because I was born in Mumbai I have this sweet love for the city and miss it! It goes without saying, that I love dancing and practicing yoga. I love to read, although off late I have gotten very picky about what I read. I love music, and my life is like a movie, with music always running in the background. I am a big time foodie, and an avid traveller, I pick every opportunity to get on the road. I have unending stories from my escapades. Whether it is during the most mundane trips to the airport, or the enthralling solo trips, I always seem to encounter exciting experiences.
What drives you to do what you do?
Shoma: I had this inner motivation to make the world happier and more peaceful. Much later, I learned that I needed to be happy and peaceful more than anyone else (winks). Dance always inspired me. When I danced I remembered who I was; free and divine. I couldn't think of a better way to fulfill my dream. I wanted to change the world with my dance and thirteen years down the line, every time I see my students transform or an audience member in tears of joy, I know, in my own small way, I am helping!
Quality training in dance is rare. Good dancers aren't necessarily good teachers. Good teachers aren't necessarily good dancers. Thus, a lot of work that is happening is often mediocre and our audiences have settled for the mediocrity as that is what is rampant. Nrityanidhi strongly focuses on quality training. Our students are encouraged to embrace technique with enthusiasm and a healthy dose of inner joy and well being. As a result, our Students dance beautifully and radiate kindness and love.
Ashwini: After I completed my studies, I went to Mumbai, and with course of time blended into Nrityanidhi so seamlessly. So much so, that Shoma asked me to head the institute in Bangalore. I began running the institute here, in 2010 and have been here ever since. Apart from my life with Kathak and Nrityanidhi, I founded a Yoga institute, Vritti- SoulSpace, two years ago. I have learnt Yoga for years now. But when I did my teachers training course, I realised how much more there is to yoga. It goes way beyond the body. Asana practice is a small portion of the expanse that is "yoga". I felt a strong calling for Yoga a few years ago, as a medium to reach out to as many people as I could. It felt like a universal calling, like people needed to hear this, and experience it. I didn't know how I would do it, with an already existing career in Kathak. But it felt like it just had to be followed. In these two years, I have seen most people complaining about stress or tension, busy schedules; hardly living, merely existing. Many of them having issues with health, physical mental and emotional; and it all comes down to one thing… your connection with yourself! We have so many responsibilities nowadays, coupled with distractions. Your body and mind are upset with you for being so away from what you need; retaliating with break downs, ill health, diseases, sleeplessness, etc. When you come to your mat, it is your moment with yourself, where you get to be pampered, feel good, do whatever you feel like doing. Really just relax.
Give us an example of a difficult situation and how you tackled it
Shoma: Hmmm…there are way too many. However, I will tell you this much, every challenge is an opportunity to overcome a hurdle within yourself. Every time I face a challenge I turn inward. 'What thought or idea of mine has manifested like this?' The moment my internal clash is settled the outward challenge is a piece of cake.
Ashwini: Shoma and I have grown up together, and so closely, therefore handling a situation becomes much easier. We know each other's ways so well, that we know when to keep quiet and when to talk. If it is an external issue, I think believing in yourself becomes the best way to handle it. Especially with clients who have behaved badly, it is the only thing that works. Also, just knowing that we are together really helps. Shoma has been through a lot, facing a lot of issues. I usually am the emotional rock that stands by.
How do you unwind or what do you do when the going gets tough?
Shoma: When the going gets tough, I dance or practice Yoga and I am reminded of how powerful I am and how everything is in the right order. I also call my sister. She has always been my anchor, my support, my punching bag, my popcorn at the movies and my cotton candy at the fair. She is the best thing that happened to me. I came down on earth; she observed from up above and realized I couldn't handle it on my own so she followed me here and there has been no looking back. I unwind with some food and Youtube or Netflix. Also, shopping, eating out or dressing up! I love good clothes and looking pretty!
Ashwini: Breathe! Sort whatever needs to be sorted, and react later when you can afford to. Make an extra effort to pamper yourself for the pain or discomfort that you went through. Personally I love to just be. Sit and do nothing! Watch the stars, lie on the terrace. I indulge in watching friends and modern family. That always helps, to bring out the lighter side of life. A spa works wonders, and most definitely Zen works his magic; that's a perk I get every single day.
What would you suggest to those who want to follow in your path?
Shoma: BELIEVE in yourself. You are capable of MAGIC.  There is no alternative for hard work. Do not compromise on quality or your values.
Ashwini: Listen to yourself. Your heart will never lie. I never listened to myself, I almost feel like I have just started living. So listen, and just follow what feels true to you. Nothing that anyone ever says can equal the peace that you get with your own validation. Secondly, pertaining to this particular path, you may not find the luxuries and perks that come with a job. Be ready to work hard, and then when you make it, you really make it big. The initial perseverance is very important. I cannot begin to tell you the things that you will get to brag about, as time passes by. More than anything, you cannot put a price on the peace of mind and happiness in your heart.
What is your message to all the women reading this feature?
Shoma: Don't be afraid to LIVE for yourself. YOU are BEAUTIFUL… gorgeous, absolutely stunning! YOUR happiness is your greatest strength. Hold on to it and allow life to bring you JOY.
Ashwini: I know you all love gifts. The one gift I would love for you to give yourselves, is to find who you are. What do you want? What makes you happy? What gives you peace?  Once you find the answers, Go ahead and do just that! Every single day, take a moment to come back to yourself. Laugh more often. Love and adore yourself!"
If you wish to share your views you can reach us at thewonderwomenworld@gmail.com or reach out here CONTACT US