WHEN IN DOUBT….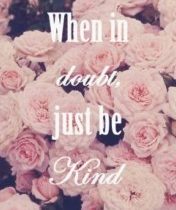 It gives me immense pleasure to have this opportunity to lead conversations and engagement with our fabulous
community
and readers on a subject that drives me personally to look at the world and people with an open, unbiased mind free from the clutches of any expectations in return.
There couldn't be a better co-moderator than Rushabh Turakhia for me to partner with on Kindness , which is also his middle name and the way with which he drives The Kindness Movement across the globe. It has been very heartening to see the way our members and some of my friends have responded to this theme by way of inspiring stories , powerful thoughts, articles , heartfelt poems. This is also a reinforcement that kindness does bring & bind people together . There is a wonderful lesson to learn , imbibe and practise from every post that has been shared and thank you to my dear friends for taking the time and effort to share this with us.
All of us understand how kindness and compassion are important virtues to be followed and the benefits it offers . There are plenty of reasons why it is considered important for everyone to practise kindness:
It is believed and we experience it too that when you give, you not only uplift the other person, but you also feel happy doing it. You experience the 'Helper's High' and it is bound to provide a feeling of joy and contentment to the giver.
Kindness produces emotional warmth and that in turn releases oxytocin, a powerful hormone that acts as a neurotransmitter in the brains and gives a feeling of warmth and bonding
It is said 'to give is to receive'
Kindness slows ageing. When you are kind or have done a kind deed, it makes you feel good and happy and happier people live healthier & longer lives.
While there are many more reasons for being kind, personally in my opinion, it's important to be kind because 'it is the right thing to do'
Not everything that we need to do or act on should be a result of the lure of positive outcomes or something good that is likely to come out of it.
We ought to be kind as it's the right thing to do and when you do the right thing , you have invested in the process and not in the outcome.
Singing off within a simple yet a powerful line from the popular movie, Cinderella 'Be kind, have courage'
-Rachana Gupta
Rachana Gupta is a Happiness Coach & Author of 'Happiness ki Khoj'. She is the Co-Founder of Cinnamon Ayurveda, a healthcare company with a mission to provide freedom from Diabetes, Joint Pain, Asthma & Cardiac related lifestyle disorders to 3 billion people globally. Rachana quit her thriving 16 year corporate career with Fortune 500 company to pursue her passion of enabling people to lead healthy & happy lives. She is committed to empowering women to take charge of their health and enabling them to be self-reliant on happiness.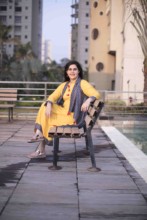 Read more about Rachana and her other articles here
RACHANA GUPTA, HAPPINESS COACH
FRIENDSHIP AND HAPPINESS, by Rachana Gupta
Disclaimer: The views and opinions expressed in this article are those of the author and do not necessarily reflect the views of The Wonder Women World. If you wish to share your views you can reach us at thewonderwomenworld@gmail.com or reach out here CONTACT US