UNEXPECTED KINDNESS!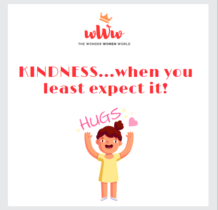 "Carry out a random act of kindness, with no expectation of reward, safe in the knowledge that one day someone might do the same for you."
Princess Diana
It was the 6th grade terminal-exam time and I missed my bus. Those days parents didn't drop us to bus stops, they knew we'd be safe wherever we went. They let us go by ourselves even after they knew that we used the railway track to walk back home if we missed the bus. Anyone missing the Vishweshwarnagar bus in Hubli (Karnataka) will know this. Well, that is a huge topic to go on
OK, so I missed my bus and came home running, took money for the auto and ran back. Kept bothering the driver very loudly to drive as fast as he could for I was getting late for the examination. I reach the school and found that the money I got for the auto has slipped off my pocket while I was running towards the auto-stand. Suddenly my voice goes low and the driver shouts, "Kya hogaya? Poora time dimaag khaaliya, chalo jaao pandra rupya do aur jao." (What happened? The whole way here you ate my head now give me the Rs.15 and go) I said, "Woh to theek hai Uncle lekin mera paisa ghum-gaya, pocket mein hi tha, mai jhoot nahi bol rahi hu, please aap yahi rukiye mai school mein kisi teacher se le aaungi." (I know that uncle, but the money has slipped out of my pocket. I am not not lying. Please wait here, I will ask a teacher for money and come) The driver thought I was lying and wouldn't let me go. I kept requesting him to stay at the same place or come back at 11.30 am and I will keep the money ready. But no, the driver was highly annoyed because it was his Bohni time (first trip of the day) and wouldn't let me go and unfortunately once the school bell goes off you don't find any known face on the roads.
Then, came a Savior, it was a familiar face, I saw this calm and serene face every Saturday outside the Hanuman temple, near Betta, Hubli. She generously offered me the money to pay the fare – but how could I take it! She said, you give me every weekend and if I gave back just Rs.15 out of all the money you have been giving me in all these years, you think that is too much? And remember you have your exam, so hurry, you can pay back next Saturday
She saw that I was still hesitant and she took the offer I gave to the driver, saying I will wait until 11.30 and you can return. I thanked her from the bottom of my heart, ran to write my exam, gathered the money after exams and gave her. That day I realized – All you need is a heart, to help!
I am sure everyone in Hubli visiting Hanuman temple on Saturdays knows who I am talking about, sadly this soul left us in 2013. I haven't spotted her anywhere in the last 5 years of my visit to Hubli.
REENA PUJARI
Disclaimer: The views and opinions expressed in this article are those of the author and do not necessarily reflect the views of The Wonder Women World. If you wish to share your views you can reach us at thewonderwomenworld@gmail.com or reach out here CONTACT US